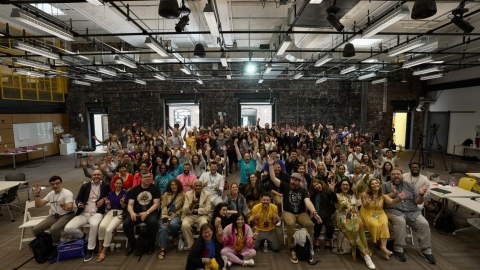 There is no denying that artificial intelligence is a game changer – for journalism and beyond.

"It's going to change how we perceive what is real and what is not real," said Mariano Blejman, speaking recently at Media Party in Chicago, a conference he founded and then grew as an ICFJ Knight Fellow in Buenos Aires. 

"It can be better. It can be worse. It can break things. But it's not going to stop," he added.

At ICFJ, we're supporting the journalists in our network to navigate this transformative moment, one filled with questions: How can AI improve how journalists work? How do we prevent the spread of disinformation on a massive scale? How do journalists build and sustain audience trust in their reporting in an AI-powered world? 

Tackling these issues requires thoughtful, motivated humans working together. It also demands innovation and experimentation. That's why ICFJ is focused on bringing together journalists and others to collaborate on AI, and why we're investing in ideas that show promise. 

With these efforts, our hope is that journalists will be better equipped to lead, conscientiously shaping practices and standards around the use of AI and innovating for good. Because yes, the technology can supercharge disinformation, but it can also help fight it. It can undermine trust in journalism, but it can also strengthen it. That's what we've got to invest in figuring it out.

Convening Great Minds

Entrepreneurs, journalists, developers and designers came together last month for Media Party Chicago, co-organized by ICFJ. It was the first time the gathering came to the U.S.

"AI is a crucial part of the future of journalism," said U.S.-based journalist Nikita Roy, founder and publisher of The NRI Nation and host of the Newsroom Robots podcast. "By coming to events like Media Party, we're really able to engage with other industry practitioners, experts, learn what people are doing in the field, and create a collaborative environment."

Participants from five continents explored the intersection of journalism and AI, including during a hackathon that generated 16 project proposals – four received grant funding. One of the winning projects, SourceScout, is a platform that uses AI to help media outlets find diverse and under-recognized sources. Another group, Scroll News, created an AI-based tool for news organizations to create social media-style news posts and short videos to engage young readers.

Among other Media Party highlights, ICFJ Senior Director of Innovation Maggie Farley held a fireside chat with Dalia Hashim of Partnership on AI. Hashim presented questions news leaders should ask themselves before even starting to use generative artificial intelligence, which users can prompt to create text and images. Read more.

Investing in AI-Powered Innovation

Newsrooms have been using AI as a tool in their work for some time, but the latest advancements have greatly accelerated interest among journalists in our global network. More are experimenting with it than ever before, and we're helping support these efforts. A couple examples:
With ICFJ's support, José Luis Pardo Veiras and his team at Dromómanos are building out an artificial intelligence tool to document, understand and counter digital violence against journalists in Central America. "In this war between lies and truth, unfortunately we are losing," Pardo Veiras told us. "And we need to fight this war with the same weapons. We have to use technology to protect journalists and to guarantee access to information for citizens."
 
Roy said her team has used the design thinking principles and processes they learned from ICFJ – through Leap, ICFJ's news innovation lab – to incorporate AI into their work serving the Indian diaspora: "ICFJ really taught us to listen to our audience and keep testing and iterating on our product, and that's where we are right now."
This fall, ICFJ's Leap Innovation Lab will do a 12–week Solutions Challenge with select newsrooms to address the role AI may play in both creating and combating disinformation. How can we track the way a piece of content was created or manipulated? Can we build a centralized database of fact-checks to feed an AI learning model? Can we block AI crawlers from using content without the creators' consent?

Through Leap, the newsroom teams will receive coaching and grant funding to dig deep on these questions and innovate to answer them. We'll also sponsor a hackathon at Media Party Buenos Aires in October on manipulated media and its effect on journalism. 

Stay tuned for more!