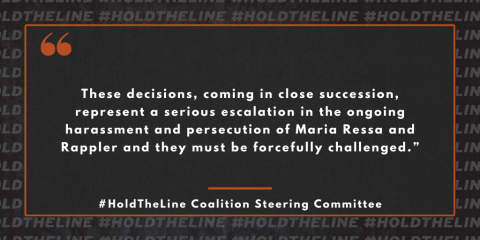 The Hold The Line Coalition condemns the Philippine Court of Appeals decision to uphold the conviction of Nobel Laureate Maria Ressa and former Rappler researcher Rey Santos Jr on trumped-up charges of cyber libel. Alarmingly, the court's rejection of their appeal brings Ressa and Santos Jr a step closer to possible imprisonment.

The appeal judges also extended the maximum jail sentence attached to the convictions by nearly nine months, to six years and eight months and 20 days, despite the fact that the convictions were based on retrospective application of a spurious law and condemned by UN human rights experts and Philippine constitutional law experts.

"This decision is bitterly disappointing and it sends a disturbing signal about the direction of justice under the new administration of Ferdinand Marcos Jr," the Hold the Line Coalition Steering Committee said. "We demand the immediate decriminalisation of libel law in the Philippines, and especially the ludicrous and retroactively applied cyber libel law under which Ressa and her former colleague have been convicted."

The criminal charge involved was prosecuted by the Philippine government in response to a complaint from businessmen Wilfredo Keng about an investigative story published by Rappler in 2012 about the use of one of Keng's cars by a former Chief Justice. A second cyber libel charge triggered by Keng was dismissed with prejudice in 2021, after he  told the court that he no longer wanted to be "preoccupied" with prosecution of the case but to redirect his focus towards the pandemic.

Since then, over a dozen other cyber libel complaints have been lodged against Ressa and Rappler, demonstrating the way in which the deeply problematic law is being used as a tool to harass and silence independent media.

The Philippine Court of Appeal's decision follows a decision just over a week prior to push ahead with a shutdown order issued to Rappler by the Securities and Exchange Commission.

"These decisions, coming in close succession, represent a serious escalation in the ongoing harassment and persecution of Ressa and Rappler and they must be forcefully challenged," the HTL Steering Committee said. "Press freedom is under fierce attack in the Philippines and this criminal cyber libel case is emblematic of the country's democratic decline."

Ressa and Rappler continue to fight seven ongoing cases being pursued by the Philippine authorities. If Ressa is convicted on all counts, she faces cumulative jail sentences of up to 100 years.

The HTL Coalition calls on States, intergovernmental organizations and international civil society groups to escalate the fight to keep Ressa free. 

Julie Posetti (ICFJ), Gypsy Guillén Kaiser (CPJ), and Rebecca Vincent (RSF) on behalf of the Hold the Line Coalition. For further comment, contact: jposetti@icfj.org, gguillenkaiser@cpj.org, rvincent@rsf.org

NOTE: The #HTL Coalition comprises more than 80 organizations around the world. This statement is issued by the #HoldTheLine Steering Committee, but it does not necessarily reflect the position of all or any individual Coalition members or organizations.