This big data case study is a product of a Participatory Action Research project partnership between ICFJ, the University of Sheffield, and digital news outlet Rappler. Below is the executive summary.
Read the full report here.

Content warning: This report includes graphic content that illustrates the severity of online violence against women, including references to sexual violence and gendered profanities. This content is not included gratuitously. It is essential to enable the analysis of the types, methods and patterns of attacks against Maria Ressa.
By Julie Posetti, Diana Maynard and Kalina Bontcheva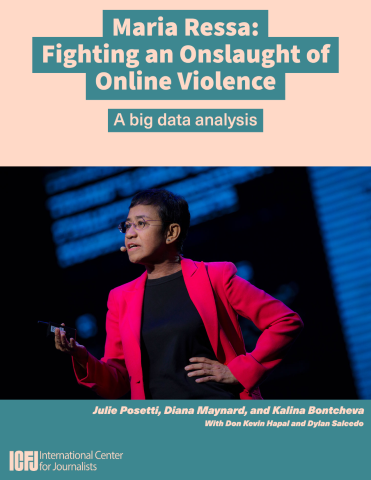 This groundbreaking collaborative case study is the most comprehensive assessment of online violence against a prominent woman journalist to date. We conducted a forensic analysis of the torrent of social media attacks on internationally celebrated digital media pioneer Maria Ressa over a five-year period (2016-2021). Here, we detail the intensity and ferocity of this abuse, and demonstrate how it is designed not only to vilify a journalism icon, but to discredit journalism itself, and shatter public trust in facts. These attacks have also created an enabling environment for Ressa's persecution and prosecution in the Philippines. Now, her life is at risk and she faces the prospect of decades in jail, proving that there is nothing virtual about online violence.

Death threats. Rape threats. Doxxing. Racist, sexist, and misogynistic abuse and memes. These are just some of the features of the digital attacks that Maria Ressa, the Filipino-American journalist who founded the Manila-based news site Rappler, has faced daily since Rodrigo Duterte came to power in 2016. The former CNN war correspondent and UNESCO World Press Freedom Prize jury chair says none of her experiences in the field prepared her for the massive and destructive campaign of gendered online violence that's been directed at her over the past five years. At one point, in response to an investigative series on State-linked disinformation, she recorded more than 90 hate messages an hour on Facebook.

Ressa lives at the core of a very 21st century storm. It is a furor of disinformation and attacks - one in which credible journalists are subjected to online violence with impunity; where facts wither and democracies teeter.

She is not only attacked for being a journalist. She is attacked for being a woman. For the color and texture of her skin. For her American citizenship. And for her sexuality. Ressa is an emblematic case study in the global scourge of online violence against women journalists, which operates at the intersection of viral disinformation, networked misogyny, platform capture, press freedom erosion, and contemporary populist politics.

The attacks against Ressa are fueled by Duterte, who has publicly condemned her - while musing that journalists are not exempt from assassination. His government has also employed a number of the key actors who have targeted Ressa online. And the worst attacks against her appear to have been orchestrated.

Despite fledgling attempts to address hate speech within the social media ecosystem, the platforms are the vectors which facilitate these attacks, creating an enabling environment for the State-led legal harassment of Ressa. This 'lawfare,' as Ressa refers to it, led to her conviction in mid-2020 on a trumped-up criminal 'cyberlibel' charge, and it continues to escalate. Issued with 10 arrest warrants in less than two years, and detained twice in the space of six weeks, she has paid more in bail and bonds than Imelda Marcos - corrupt wife of the former Philippines dictator - ever did. Ressa is currently fighting nine separate cases, and if she is convicted on all charges, she could spend the rest of her life in a Philippines jail. For publishing public interest journalism.

As Caoilfhionn Gallagher QC, the co-lead of Ressa's international legal team, explains, Ressa is attacked for her journalistic work on multiple fronts: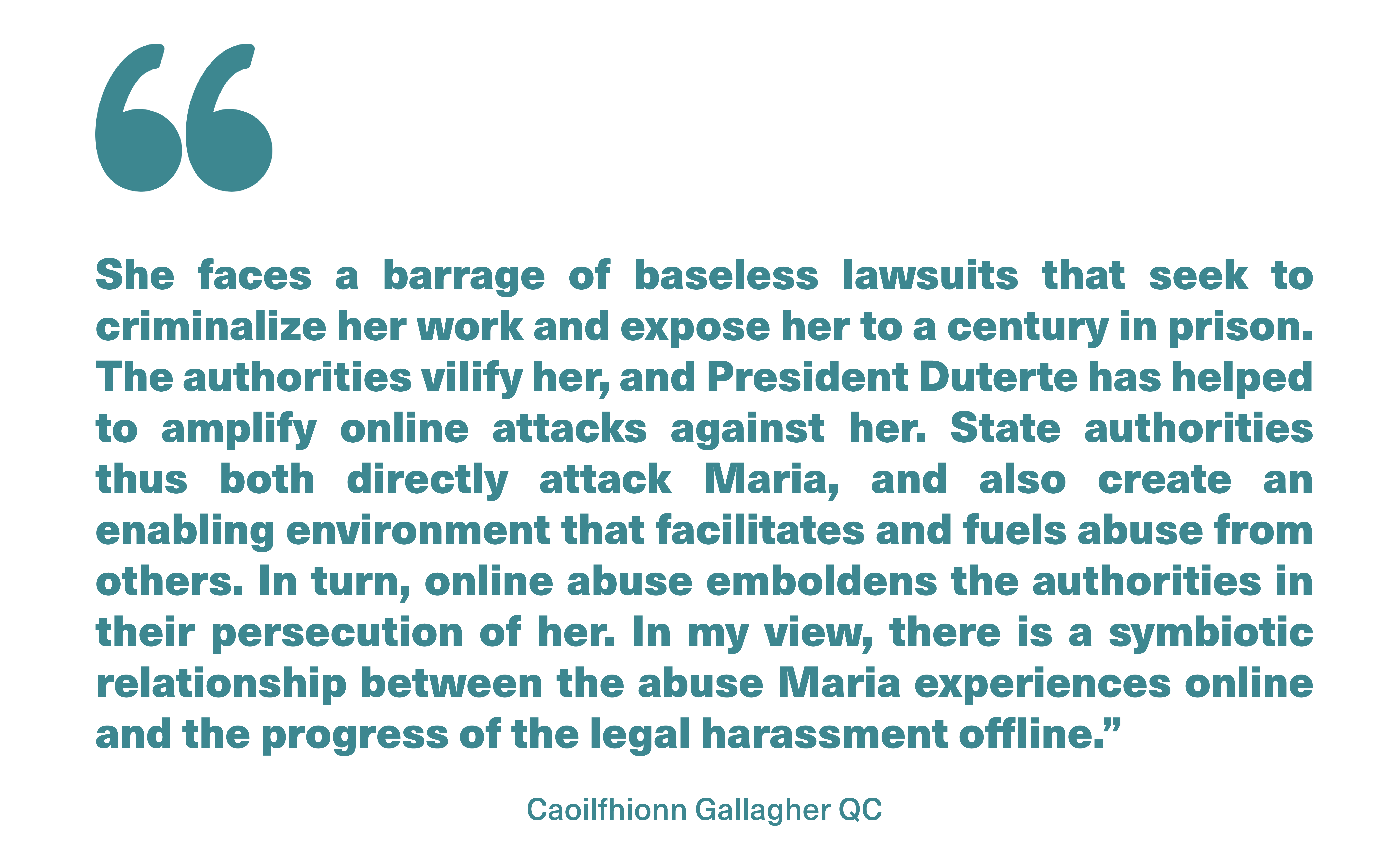 Here, as part of a Participatory Action Research project involving Rappler, we present detailed evidence of the abuse, threats and harassment gathered from hundreds of thousands of posts directed at Ressa on Twitter and Facebook between 2016 and 2021. This study combines big data analysis - using Natural Language Processing (NLP) techniques (merging linguistics, computer science and artificial intelligence) and network analysis - with deep dive interviews. It also draws on research undertaken by others, including specialist 'internet cartographers,' civil society organizations and academics.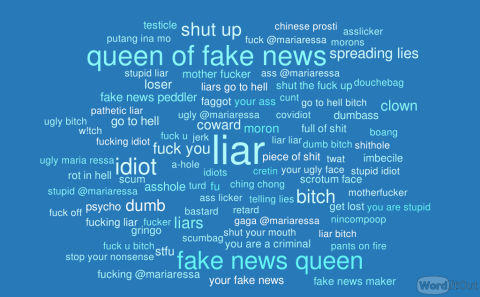 Our analysis of the online violence the Rappler CEO experiences helps us understand how and why she is targeted, and how the threats spread. It also gives us insights into the role of the State in manufacturing consensus by fueling the behavior of the social media users who target her. "If I wanted to see what the government was going to do, I only needed to look at social media because the attacks to arrest me and shut down Rappler were seeded as meta-narratives in 2017," Ressa says. "And now here we are." The function of the social media companies in facilitating the abuse is also spotlighted by Ressa: "The only way it will stop is when the platforms are held to account, because they allow it... They have enabled these attacks; they should not be allowing this to happen."
These are the 11 key findings of our novel case study examining online violence against Maria Ressa:
Almost 60% of the attacks on Ressa we extracted from Facebook and Twitter for analysis were designed to undermine her professional credibility and public trust in her journalism.

Credibility or reputation-based attacks frequently deployed disinformation tactics and abuse conflating Ressa and her journalism with "fake news" (e.g., "Queen of Fake News"; "LIAR"; "#Presstitute").

Over 40% of the attacks in the combined datasets targeted Ressa at the personal level - often viscerally.

14% of all abuse and 34% in the category of 'personal' attacks against Ressa could be classified as misogynistic, sexist and explicit abuse.

The use of abusive memes and manipulated images, which 'fly under the radar' of detection, is commonplace.

There is evidence that some of the attacks on Ressa are coordinated or orchestrated - a hallmark of State-led disinformation campaigns. 

Much of the abuse and threats are fueled by President Duterte's public statements demonizing Ressa and Rappler as criminals, and pro-Duterte bloggers/social media influencers.

Lightning rods for attacks include: Rappler's investigative journalism; Ressa's reporting and commentary on State-linked disinformation; Ressa's high-profile media appearances; her industry accolades; and her court appearances.

Facebook is the main vector for the online violence Ressa faces. It is also the most used social media site in the Philippines - a country which spends more time online than any other.

Both Facebook and Twitter have promised to address the attacks on Ressa, but Facebook has failed dismally to effectively stem the tide of hate against her. Ressa says she feels "significantly safer" on Twitter.

For every one comment supportive of Ressa on her Facebook page, there were about 14 comments attacking her.

There is direct evidence that the online violence targeting Ressa has offline consequences. It has created the enabling environment for her persecution, prosecution and conviction. It also subjects her to very real physical danger.