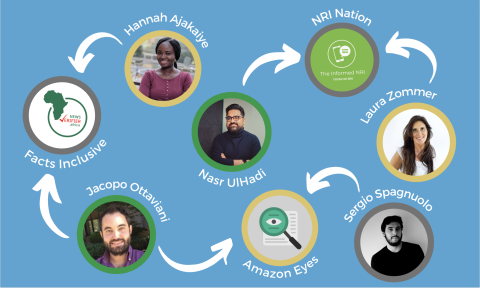 In the past two weeks, you heard about our Leap Innovation Lab and saw some of the creative solutions for building trust and transparency in journalism. What you don't see behind the scenes is the role that ICFJ Knight Fellows past and present played as mentors for the projects. 

These kinds of collaborations are exactly what the ICFJ Knight Fellowships are designed to do.

Former ICFJ Knight Fellow Jacopo Ottaviani, who spearheads Code for Africa's data journalism and story engagement was the perfect fit for Facts Inclusive, which aims to create fact checks in sign language and local languages in Africa. Ottaviani's work on the data-driven series on the world's rainforests in 2016, Lungs of the Earth, was a great fit for Amazon Eyes, a tool that allows citizens to document environmental devastation.

ICFJ Knight Fellow Hannah Ajakaiye, whose FactsMatterNG helps social media influencers in Nigeria make facts go viral, also worked with Facts Inclusive. She demonstrated how to use a simple video creation tool, Lumen5, to make catchy visual presentations for social media.

ICFJ Knight Fellow Nasr UlHadi, founder of the PROTO media development agency in India, helped NRI Nation with concepts and connections. NRI Nation (NRI stands for Non-Resident Indian) is developing a WhatsApp based media literacy course to stem disinformation targeting the Indian diaspora audience.

ICFJ Knight Fellow Laura Zommer and her Factchequeado co-founder Clara Jimenez are also sharing best practices with NRI Nation from their WhatsApp tipline and course development. 

ICFJ Knight Innovation Fellow Sergio Spagnuolo is working to connect the back-end of Amazon Eyes with another ICFJ project, Eyes of the World, that connects the environmental monitoring project founded in Indonesia by former Knight Fellow Harry Surjadi with like-minded news outlets in Brazil.