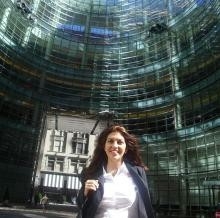 "I have been reporting and editing since 1998, and I see over and over that one of the things that empowers people is knowledge and accurate information about how the American 'system' works," said Carrera, a native of Ecuador. "U.S. Hispanics need good, sound, independent information." Carrera saw some of this need as editor of Mercado de Dinero USA, starting in June 2007. The monthly, Spanish-language publication focuses on consumer and economics news. Based in Miami, it has a circulation of about 12,000, mostly Hispanic professionals and entrepreneurs.
Under her leadership, Mercado de Dinero uncovered frequent financial missteps as well as victimization of Hispanics. "This may be because there are so many 'experts' in the Hispanic media that in real life are working for companies with hidden agendas," Carrera said.
As her work at the magazine was ending this spring, Carrera launched www.lafamiladebroward.com. It is a general circulation publication, with a mix of hard news and lifestyle news – including entertainment and health. But its central focus is personal finance news and advice on such topics as taxes, credit cards, even how to start a small business. Some of the stories are local, but many can be useful to Hispanics across the United States, Carrera said.
She edits the site, and writes its content along with Juan Carlos Valdes, an expert in online marketing, and Venezuelan journalist Elizabeth Ostos, whom she met in the ICFJ personal finance course. Two of the most popular early stories were about: American household debt growing as much in the past five years as in the previous 40 years; also, a child abuse victim who walks across Florida every year and calls for stronger prevention laws.
The first month saw 1,413 visits – just through word-of-mouth and social networking. Carrera is now assembling and uploading a media kit, aiming to attract advertisers that want to reach a Hispanic audience, through both the website and a weekly e-newsletter she plans to produce.
Carrera's first ICFJ Anywhere course was Personal Finance for Hispanic Journalists, a McGraw Hill-funded program, in June 2010. "The training was extensive and I took advantage of all the resources," Carrera said. "For one thing, I learned how to report on financial fraud better, and now it's one of my favorite topics. The course also helped me as an editor, with a better understanding and more ideas about personal finance issues to have my stringers cover."
Then in March of this year Carrera took another McGraw Hill-funded course, Introduction to Multimedia Reporting. "It overwhelmed me because it was the first time I took a course on multimedia," she said. "I learned everything from scratch – from doing storyboards to taking advantage of social media in spreading the word on articles. I applied everything right away, and I now upload my own videos and photo galleries."
Carrera's instructors expected she would make good use of the lessons. "She was always a very enthusiastic participant," said Rosalba Ruiz, who taught the multimedia course. "For her, taking the course was a motivating force to keep learning about digital tools." Xavier Serbia, the personal finance instructor, said, "I remember her good writing and investigating skills."
Carrera is definite that she will take more ICFJ Anywhere courses, the other two having taught her valuable lessons even after she was well along in her career. "Even though I already worked at an economics and business publication, the experiences of the two courses expanded the boundaries of my understanding," she said.