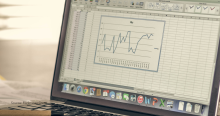 In a world that is increasingly dependent on technology and big data, journalists need to stay up to date on the latest tools, understand how to find and use databases, and have a solid foundation in modern business practices. Click here to read this page in Spanish.
With the support of S&P Global, the International Center for Journalists (ICFJ) offered two online courses for reporters – one in English and one in Spanish – focusing on using data to cover entrepreneurship and financial news. The online courses included such topics as startups and small businesses; non-profit companies; mergers and acquisitions; executive compensation; public vs. private companies and using databases to find company news.
The courses were open to Spanish-speaking and English-speaking journalists working within the United States.
The online courses ran simultaneously and took place from March 7 through May 8, 2016. Applicants proposed a project to develop during the course.
The English-language course was led by Chris Roush, who teaches business and economics reporting at the University of North Carolina. Roush has written six books, including two about business journalism. Roush also previously served as an online course trainer for ICFJ's programs.
The Spanish course was led by Alfonso Vara-Miguel (PhD). Vara-Miguel is an associate professor of Journalism at the University of Navarra (Pamplona, Spain), where he has been teaching financial and business journalism for nearly 20 years. Vara-Miguel also served as head of the university's Media Management Department of the School of Communication (2001) and Director of the Seminar of Financial & Economic Journalism.
____
The program is divided into three parts:
An eight-week online training course on using data to cover entrepreneurship and financial news;
An eight-week online mentoring period, during which selected participants produce stories that use data that will be published in their media outlets. Three participants will receive cash prizes to help them further develop their stories: US$2,500 for a first-place finalist, US$1,500 for a second-place finalist, and US$750 for a third-place finalist;
A three-day reporting field trip to New York in July 2016 for the three award-winning finalists and five additional participants. They will interview economists, among them experts from McGraw Hill Financial. In addition, they will meet with stock market officials, economic analysts and business leaders in the global hub of finance.
Image CC-licensed via Flickr user Grant.
Program Dates:
3/6/2016 - 7/3/2016
Contact Info
Jorge Luis Sierra
Program Director
jsierra@icfj.org