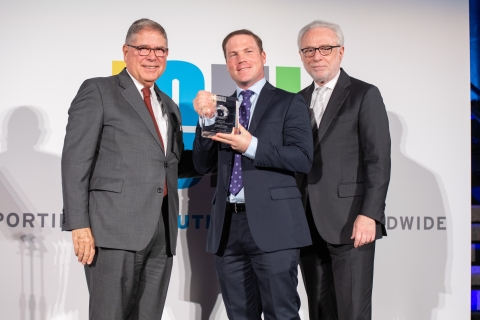 Joseph Poliszuk, a media innovator whose online news site has exposed rampant corruption in Venezuela, says the government has criminalized information and is prosecuting journalists as the country slides deeper into economic and political chaos.
As editor of Armando.info, Poliszuk leads a team of intrepid reporters who have produced major investigations of high-level misdeeds as authorities sought to control or stifle dissenting voices.
"At first, officials started by denying information," said Poliszuk, in Washington to receive the coveted Knight International Journalism Award. "Then, they closed the doors and cut off the telephones. Next, reporters were attacked while they were covering the news. Later they closed or bought news organizations that made them uncomfortable."
"Now," he added, "they block web pages, prosecute journalists or cancel their passports. They have gone so far as to cut the electricity at radio stations. Today, in Venezuela, information is criminalized."
Poliszuk and three of his reporters fled Venezuela last year for fear of imprisonment after they were sued by a powerful businessman tied to President Nicolás Maduro. They revealed a scheme by the businessman to inflate the price of food meant for desperately poor citizens.
The journalists, who each could get six years in prison, said they feared they would not receive a fair trial because of their reports that also showed political links between Maduro and the judiciary.
"My colleagues and I could go to jail for having reported the truth on the food corruption scandal," Poliszuk said. "But we know that one of our greatest challenges is to explain that corruption is not just an economic issue. Corruption also kills."
He said that, like food, information and freedom of expression were in short supply in his country. "I have had to work as a journalist during a time when authorities hide the number of murders and the monthly inflation rate, as if they can erase that we are one of the most violent countries in the hemisphere or that we have been left penniless by hyperinflation."
Poliszuk thanked ICFJ for the award, saying, "I accept this recognition with humility, as an honor not only for me, but for the work that we do at Armando.info and for Venezuelan journalism as a whole. Despite our circumstances, Venezuelan journalists have shown their bravest side in recent years."