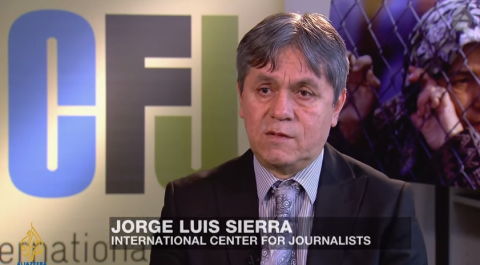 Jorge Luis Sierra, Director of ICFJ's Knight International Journalism Fellowships program, was featured on a segment of Al Jazeera English's The Listening Post. It identified surveillance as one of the top media trends of 2015.
Commenting on the need to understand digital security as a way to manage and monitor surveillance, Sierra told the show's host Richard Gizbert, "It is crucial that...investigative journalists learn about digital security because there's no [other] way to protect data, there is no way to protect information if we don't learn digital security."
Sierra is an award-winning Mexican investigative journalist. He covered conflict-related topics such as drug trafficking, organized crime and gangs before joining ICFJ. He is also an expert on digital security for journalists.
The world has seen first-hand the fallout from surveillance and intelligence gathering in the United States and the UK. Sierra says these recent incidents aren't unique to those countries. And he says media are often targets of these activities.
"You can see cases in Mexico, you can see cases in Angola, you can see cases in Syria, in Iran, in Ecuador," he said. "There are a lot of cases of surveillance attacks to online publications, threats conducted via email, defamation campaigns using social media like Twitter or Facebook." Other trends The Listening Post says to watch for in 2015 include the state of media in Russia and China and expansion of mobile media.
Watch the full episode here.