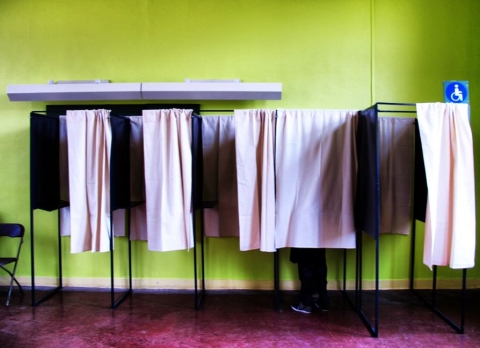 Each week as part of the Knight International Media Innovators blog, the ICFJ Knight team will round up stories focused on how their fellows are making an impact in the field. Find out more about the fellows' projects by clicking here.
Data visualizations and stories from a recent open data event, Chicas Poderosas held a conference in Mexico and more from the Knight Fellows in this week's roundup.
Liberating South Africa's open data
Code for South Africa and their partners hosted Liberate SA's Data on Saturday, October 24th. The event, held simultaneously in Cape Town, Durban and Pretoria, brought together journalists, designers, developers and engaged citizens to support open data in South Africa. Groups worked together to produce stories with social relevance, with at least one high-impact data visualization, using open data sets. Check out the Twitter hashtag #SAOpenData to find out what happened.
HacksLabs projects shine light on Argentina's political candidates before elections
As Argentine voters head to the polls to elect a new president and legislature, ICFJ-supported projects are helping them make more informed choices. Chequeado, a grantee of the data journalism incubator HacksLabs, started by ICFJ Knight Fellow Mariano Blejman, has published a set of data graphics in the leading daily La Nación evaluating candidates' policy proposals and statements. Another HacksLabs grantee, Cargografias, has assembled timelines that stretch back several decades to chart candidates' evolution on issues, providing historical context for voters.
Open Government Fellow examines the need for accountability in Nigeria's defense services
Seember Nyager, one of the four Code for Africa and Open Knowledge Open Government Fellows, is focusing on the challenges of the Nigerian public procurement system. In her most recent Medium blog "Why public accountability matters to Nigeria's national security," she explores the lack of proactive compliance rankings at 14 security sector institutions.
Chicas Poderosas talk data journalism, coding and more at conference in Mexico
Chicas Poderosas, the women journalists' empowerment group founded by former ICFJ Knight Fellow Mariana Santos, hosted its latest conference this past weekend, Oct. 24-25. The event held presentations and workshops on crafting narratives, data journalism, basic coding and other tools to enhance journalists' skills in the digital age. ICFJ Knight Fellow Jorge Luis Sierra lead a session on digital security, which is crucial for journalists reporting from many parts of Latin America.
This post is also published on IJNet, which is produced by ICFJ.
Image CC-licensed on Flickr via Mortimer62.