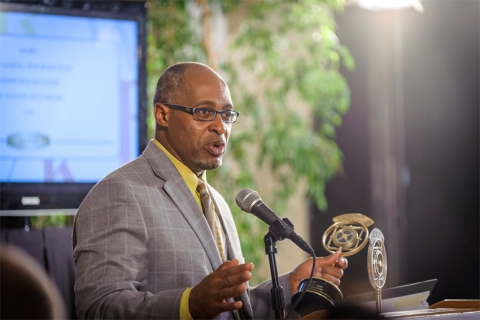 Wellesley, MA is a town better known for its college culture than its ties to the sex trade. But International Reporting Fellow Phillip Martin's award-winning stories are exposing it--and other hidden trafficking hot spots along the eastern seaboard.
Earlier this summer, Martin and his team of producers for WGBH Public Radio in Boston earned a gold United Nations Department of Public Information (UNDPI) Award as well as a gold honor in the Best Investigative Reporting category at the New York Festivals 2013 International Radio Awards for his story "Underground Trade: From Boston to Bangkok".
His eight-part series explored the links between sex trafficking in Asia and the United States' East Coast -- highlighting the plight of victims and efforts of officials to combat the trade. Martin managed to get interviews with trafficked women and brothel clients and even visited the headquarters of dangerous trafficking rings.
In an interview, Martin, a 2012 fellow in ICFJ's Bringing Home the World Fellowship, said he was "honored" to receive the awards and to be able to report on such a topic.
"It was important for me to go deeper into uncovering East Coast based-human trafficking networks and the connections to Southeast Asia," he said. "I have long been concerned that unless we probe extensively into this world-wide criminal enterprise, it risks becoming an 'issue du jour.'"
After the original broadcast on WGBH Radio, The Huffington Post featured Martin's report- and it grabbed the attention of U.S. officials.
"It seems ironic that even as our world becomes more interconnected through the internet, integrated markets, immigration and crime, journalism has retreated in covering the world," Martin said. "Thankfully, ICFJ exists to help journalists expand our reach beyond our own backyards. These awards are a testament to the results."
The Bringing Home the World International Reporting Fellowship provides minority journalists in the United States with funds to report abroad. The fellowship is sponsored by the Ford Foundation, with additional funding from the Brooks and Joan Fortune Family Foundation, the Scripps Howard Foundation, the Samuel I. Newhouse Foundation and United Airlines.