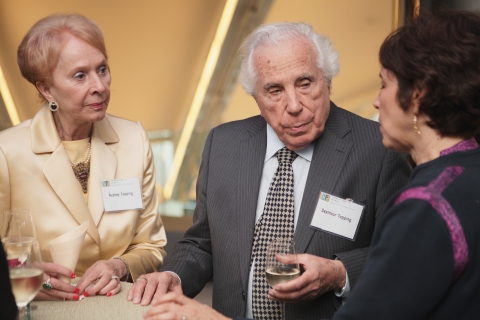 The International Center for Journalists mourns the loss of Seymour "Top" Topping, a legendary war reporter and New York Times editor, and longtime member of ICFJ's advisory board. He passed away Nov. 8 at the age of 98 in White Plains, N.Y.

Top was perhaps best known for his brilliant coverage of China's civil war in the late 1940s and the rise of Mao Zedong and communism in that country. His China expertise proved invaluable to ICFJ as the center launched its groundbreaking Global Business Journalism program at Tsinghua University in Beijing in 2007. He served on the international board of directors of that program, which continues to thrive today, having awarded master's degrees to nearly 450 Chinese and international students.

"Top was instrumental in laying the groundwork for ICFJ's vital work in China," said ICFJ President Joyce Barnathan. "He knew the country so well, and he was always there for us with his deep wisdom and important contacts. He truly was one of this organization's great friends."

In his memoir, "On the Front Lines of the Cold War," Top recalled being held prisoner in January 1949 in a hut in central China while serving as correspondent for the International News Service. A battle between Nationalists and the People's Liberation Army raged outside. Soon after being freed, Top would learn that the battle he had witnessed was the one in which Mao and his forces essentially ended the war and took control of China.

"Mao's victory in the Battle of the Huai-Hai marked the onset of an era in which East Asia would be engulfed in war, revolution, and genocide," he wrote in a his memoir, according to his obituary in The New York Times. "Tens of millions would die in China, Korea, Indochina and Indonesia in wars, political purges and sectarian violence."

Top went on to cover conflicts across Asia, including Vietnam. In 1950, he became the first U.S. correspondent in that country since World War II, covering the war between France and the communists under Ho Chi Minh, according to the Times. 

The Times hired him in 1959, and soon made him Moscow bureau chief. He broke the news of the U-2 spy plane incident in 1960 and covered other stories from Soviet space missions to the 1962 Cuban missile crisis. 

He then became Southeast Asia bureau chief in the early years of U.S. involvement in Vietnam, then moved to New York to become foreign news editor in 1966. He gradually rose at the Times to become assistant managing editor, deputy managing editor and managing editor. He retired from the paper in 1993 and became a professor at the Graduate School of Journalism at Columbia University and the administrator of the Pulitzer Prizes, awarded by Columbia.

Top's wife, Audrey, a writer and photojournalist whom he met in what is now Nanjing, China, has also been a great friend to ICFJ. Her photos of China are iconic. She survives him, as do four of their five daughters, seven grandchildren and four great-grandchildren.

Each of the Toppings helped ICFJ in a variety of ways over the years. Top met with groups of visiting international journalists, regaling them with stories of everything from war reporting to managing the Times' publication in 1971 of the Pentagon Papers, which led to a Supreme Court ruling that has become essential in guaranteeing freedom of the press in the United States. The Toppings attended ICFJ's events in New York and Washington, and in 2012, Audrey headlined an event at which she showed photos from remote parts of China at a time when very few Western journalists had access to such places. She helped ICFJ auction the photos to raise funds to support the center's work.

ICFJ extends its condolences to Audrey and the Topping family. 
Note: AP Vice President and Editor at Large for Standards John Daniszewski, also an ICFJ board member, wrote this obituary for the wire service.