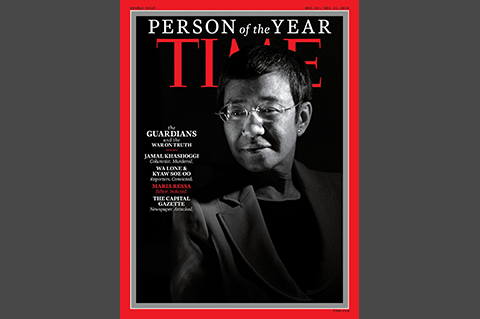 TIME has named a group of embattled journalists, including ICFJ Knight International Journalism Award winner Maria Ressa of the Philippines, its Person of the Year for 2018. 
Ressa, founder of the independent news site, Rappler, has provided unflinching coverage of President Rodrigo Duterte's disinformation campaigns and extrajudicial killings. Their reporting has made Rappler and Ressa the targets of mounting legal attacks from the government.
Rappler faces five tax evasion charges, which Ressa calls "a clear case of persecution." She has vowed to fight the charges and keep reporting.
"I'm going to challenge the process and I'm going to challenge the charges," she told the press Sunday. "I will continue to hold the government accountable."
Ressa's determination is the reason TIME is honoring her, along with other truth tellers facing threats around the world.
"The strongmen of the world only look strong," Editor-at-Large Karl Vick wrote in TIME. "All despots live in fear of their people. To see genuine strength, look to the spaces where individuals dare to describe what's going on in front of them."
While TIME traditionally names a single person or idea the most influential, this year the magazine chose to highlight truth-telling and embattled journalists, which it called The Guardians: Ressa; the late Washington Post columnist Jamal Khashoggi, who supported ICFJ programs; imprisoned Reuters reporters Kyaw Soe Oo and Wa Lone; and the staff of Maryland's Capital Gazette newspaper, the site of a mass shooting in June.
"As we looked at the choices, it became clear that the manipulation and abuse of truth is really the common thread in so many of this year's major stories from Russia to Riyadh to Silicon Valley," said TIME Editor-in Chief Edward Felsenthal on NBC's TODAY morning show.
ICFJ President Joyce Barnathan called Ressa "a beacon of quality journalism."
"ICFJ stands by Maria and her entire team at Rappler, as they vow to hold the line in defense of independent journalism," she said.
In accepting her Knight Award at the ICFJ Awards Dinner in Washington in November, Ressa urged other journalists to keep speaking the truth.
"We have to stay the course," she said. "Sometimes, people say you're naïve or foolish. People say that about us. We're not. These times require that. Without hope, we have no energy to move forward. We have to take the long view, work together and know we are not alone. This is a global battle."
Jennifer Dorroh is director of the ICFJ Knight Fellowships.