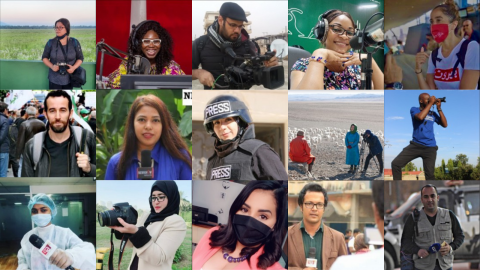 Over 37 years, ICFJ has built a network of journalists unmatched anywhere in the world. They are the real stars of our work -- the investigative journalists who reveal corruption, the innovators who create digital tools to reach isolated audiences, the entrepreneurs who bravely launch media outlets in countries with repressive regimes, and so many more.
One focus over the past year has been quantifying who is in our global network and making sure we are helping them get the skills and expertise they need to fulfill their vital role of informing the public and protecting democracy.
It takes a journalist to change the world for the better. At ICFJ, it takes about 132,000 of them.
That's the number we consider to be members of our current network. They are reporters, editors and producers, but also people on the business side of media, technologists working on media innovation, journalism faculty and students, and representatives of our partner organizations across the globe. They come from 173 countries.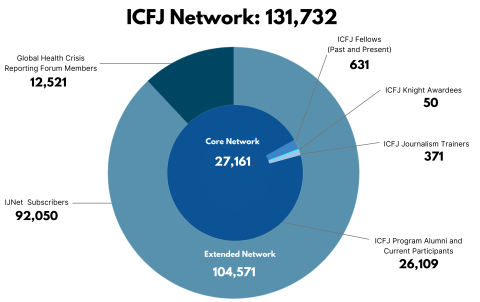 Who are these journalists?
About 27,000 journalists are members of our "core network." These are current program participants, program alumni from the past five years, ICFJ Knight Fellows, winners of our prestigious awards and active trainers. ICFJ runs about 80 programs a year, on everything from investigative reporting to combating disinformation to media sustainability strategies.
More than 92,000 subscribe to our International Journalists' Network (IJNet) weekly bulletin in eight languages. IJNet is the world's top site for stories on journalism trends, media toolkits and career opportunities. IJNet has published more than 1,100 COVID-19 resources alone.  
More than 12,500 journalists have joined our Global Health Crisis Reporting Forum, which launched in 2020 in five languages, in response to the pandemic. They benefit from weekly webinars on medical issues and trainings on journalism tools. We connect journalists to collaborate on cross-border pandemic stories. As COVID-19 rages unabated from Brazil to India, this Forum is as vital as it was when we launched early last year. 
We invite you to become part of our network, too. Just fill out this brief form to tell us a bit about yourself and how we can serve you. You will then be invited to participate in our programs and informed of exciting opportunities. We never charge journalists for our services, and we do not share personal information with anyone outside of ICFJ.
We can't predict the next global crisis, but we will continue to nimbly adapt to serve our incredible community — 132,000 and growing — with expertise and resources on the urgent issues of the day. Join us! Become part of our network.