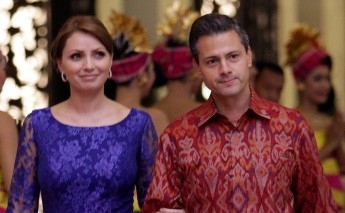 ICFJ's Investigative Reporting Initiative in the Americas (IRIA) gave reporter Rafael Cabrera the tools he needed to break a story on the "Mexican White House" that has shaken the government of that country and led to follow-up stories from major media in the United States.
Cabrera, a journalist with Aristegui Noticias, reported on a potential conflict of interest involving President Enrique Peña Nieto and his wife, Angélica Rivera. The story revealed that the first family's $7 million mansion is primarily owned by a subsidiary of a Chinese company that had been awarded a multibillion-dollar high speed rail contract. The report forced the government to revoke the contract – and the presidential couple to sell their stake in the controversial house and publicly declare their assets.
"The ICFJ initiative gave me new tools to better cover the story and to see a bigger picture," Cabrera said. His piece was picked up widely by Mexican and U.S. media, including The New York Times, The Washington Post and The Wall Street Journal. It has triggered a debate over conflict of interest among government officials in Latin America.
ICFJ is entering the second year of the four-year training program, which is creating a cadre of investigative reporters using digital tools to cover issues such as corruption, drug and human trafficking, gang violence and environmental degradation. The program also matches reporters to work across borders on multinational stories in Latin America, a region where self-censorship and threats against journalists are common.
ICFJ implements the program in partnership with Connectas, a Colombia-based organization promoting cross-border news reporting in the Americas. The program provides hands-on training, online courses and mentoring from top investigative reporters from the Americas while journalists work on their stories. Small grants allow news organizations and freelancers to launch major investigations that could have not been possible without this initiative. About 300 journalists have participated in the program, publishing more than 50 investigative pieces.
Other stories published by program participants have opened up campaign finances, triggered federal investigations and won journalism awards.
Journalists working in the IRIA program received security protocol training, including cybersecurity skills and training on tools such as Secure Reporter, an encrypted collaborative platform ICFJ built to help journalists work on joint investigations in a safe digital environment. They also received training on how to use Investigative Dashboard, an online tool that helps journalists and civil society researchers expose organized crime and corruption around the world.
Image CC-licensed on Flickr via Presidencia de la República Mexicana.