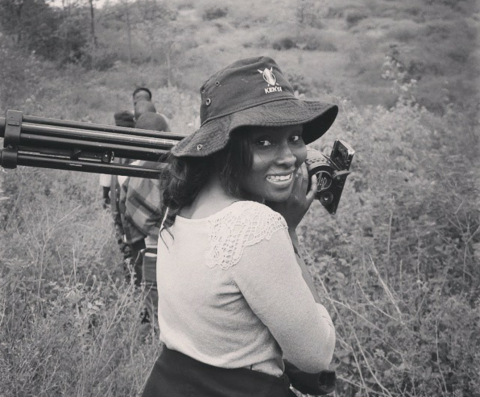 Mercy Juma, a Kenyan broadcast journalist whose stories shed light on sensitive topics, such as unwed teen mothers living in Muslim communities, has been named winner of the inaugural Michael Elliott Award for Excellence in African Storytelling. A distinguished jury selected her from among 354 applicants for this prize.
The prestigious award is given by the International Center for Journalists (ICFJ) in partnership with ONE and the Elliott family. It was established in honor of Elliott, an outstanding editor and philanthropist whose life was a testament to the power of storytelling to bear witness to and improve the human condition. The prize aims to advance the work of an emerging journalist covering Africa who strives to strengthen people's voices and improve their well-being.
The reports by Juma, who until recently worked as a senior health and science reporter at the Daily Nation newspaper and NTV, its sister station, bring to life the stories of often-voiceless Kenyans who face difficult human challenges and aim to overcome them. In "Teen Mums of Kwale," she tells of primary school girls whose families make the controversial choice to let them use contraceptives even though the practice is taboo in the Muslim communities of Kwale County. The reason for going against tradition: Their unmarried girls need schooling, not more unwanted pregnancies, if they are ever to rise out of poverty.
"Mike would be so pleased by the quality of entries for this award, illustrating the power and potential of journalism coming out of Africa," says Emma Oxford, Elliott's widow. "He would be delighted that the jury selected Mercy Juma for her moving storytelling of health issues in isolated Kenyan communities that deserve attention. In her broadcasts, she vividly describes the plight of rural families coping with teenage pregnancies."
Juma will receive the award and a cash prize at ICFJ's Annual Board Dinner in New York on May 31. She also will spend time in U.S. newsrooms to learn new skills and share knowledge in a program run by ICFJ. The goal is to help to deepen future reporting that engages and empowers Africans. This month, Juma started her new post as a broadcast journalist at the BBC Africa.
The international panel that selected Juma was chaired by Norman Pearlstine, vice chairman of Time Inc., and included:
Lionel Barber, editor, Financial Times
Joyce Barnathan, president, International Center for Journalists
Matthew Bishop, senior editor, The Economist Group
Erik Charas, a member of ONE's Africa Policy Advisory Board; publisher, @Verdade newspaper based in Mozambique
Jamie Drummond, executive director and global strategy, ONE
Nic Dawes, deputy executive director for media, Human Rights Watch, and member of ONE's Africa Policy Advisory Board
Jerri Eddings, senior program director, ICFJ
Catherine Gicheru, ICFJ Knight Fellow based in Kenya
Rik Kirkland, partner, Global Publishing, McKinsey & Company, and ICFJ Director
Andrew Marshall, senior director of global marketing strategy, ONE
Chika Oduah, freelance journalist based in Nigeria
Declan Okpalaeke, former ICFJ Knight Fellow based in Nigeria
Emma Oxford, author, "At Least We Lived"
Elliott served as a top editor at The Economist, Newsweek and Time before becoming CEO of ONE. A passionate writer and editor with a gift for unraveling complex issues, he shone a light on global development issues and the people at their center. A longtime board member of ICFJ, Elliott championed great journalism as a tool for empowerment.
As ONE's CEO, he lobbied to improve the lives of all Africans. Shortly before his untimely death last July, he spoke of his dream to establish an award that would bring together his belief in great journalism with his commitment to progress in Africa.