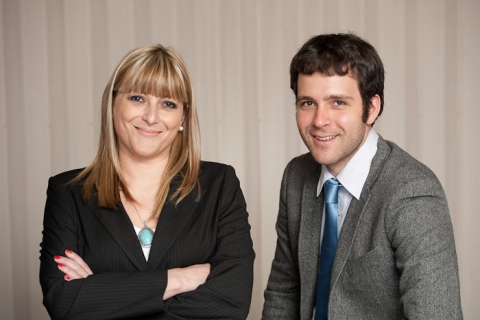 At La Nación, one of Argentina's leading daily newspapers, Sandra Crucianelli will create the first team of investigative journalists who can track tax revenues earmarked for the country's crumbling public services. As part of this effort, she will help La Nación launch Argentina's first data blog, where journalists post data-driven stories and invite the public to respond and engage. Crucianelli will also work with the local chapter of Hacks/Hackers—a group of journalists and software developers teaming up to create new applications for collecting and visualizing data.
Prior to the fellowship, Crucianelli, an investigative reporter, served as the founder and editor of Sololocal.info, an online magazine of hyper-local news in Bahía Blanca City.
Gustavo Faleiros will create Brazil's first comprehensive online map that makes extensive use of data to track the deteriorating environment of the nine-country Amazon region. The map is the first mash-up of existing technologies—satellite images, open data and social media feeds—providing journalists with the ability to keep tabs on changes impacting the world's largest tropical rainforest. Faleiros will also work with the daily newspaper Folha de São Paulo to launch Brazil's first data blog devoted to engaging citizens in stories based on new data. He will also help journalists take advantage of Brazil's new Freedom of Information Law, passed last year, which provides unprecedented access to public, government data.
Previously, Faleiros, an environmental journalist, served as the editor of O Eco, a post he has held since 2007. He was the recipient of a 2003 World Bank award for a story on rural water supplies.
"By creating new ways to access and use data, the latest Knight Fellows will be improving transparency and accountability throughout South America," said Elisa Tinsley, director of the Knight International Journalism Fellowships program.
Crucianelli and Faleiros join other Knight International Journalism Fellows who are leading data-journalism projects around the world. They include:
Justin Arenstein, who is running data "bootcamps" to train African journalists to tap into new sources of data and statistics when covering health and development issues;

Jorge Luis Sierra, who developed a crowd-sourced map that collects citizen reports on crime and corruption in Panama. The data displayed on the map allow journalists to identify and investigate key trends. He is now expanding the initiative to Mexico; and
The International Center for Journalists manages the Knight International Journalism Fellowships, which are funded by the John S. and James L. Knight Foundation and the Bill and Melinda Gates Foundation.