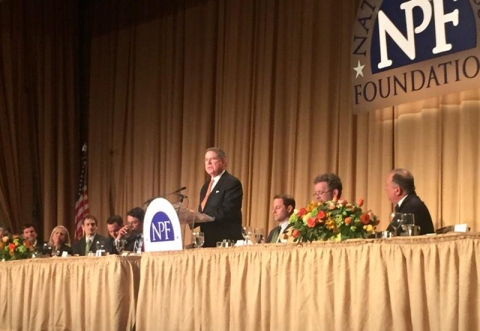 Radical changes introduced by the digital age have created exciting possibilities for journalism to inform and illuminate the public, said Alberto Ibargüen, president of the John S. and James L. Knight Foundation.
In accepting the W.M. Kiplinger Award for Distinguished Contributions from the National Press Foundation, Ibargüen emphasized the importance of maintaining core journalistic values while embracing the changes brought on by the technology revolution.
Ibargüen said his "view of the future of journalism starts with a simple observation: this new, digital age of communication – all around us, in our pockets, on our wrists – is profoundly changing our economy, our communities and our lives."
The fast-paced atmosphere "leads to one conclusion: if you care about journalism, you have to care about technology."
He underscored the importance of being optimistic despite the drastic changes in the news business.
"Chaos for some is opportunity for others – to inform, reach, rouse the people so they can determine their own interests," he said. "In the space of about 10 years, newspapers went from cash cow monopolies to cost-cutters struggling to make a profit so they could continue to serve."
But Ibargüen remains optimistic "because we've never had this great an opportunity to inform and illuminate the minds of our audience," he said. "Not since the dawn of the printing press has change been so radical, the possibilities so exciting."
He also stressed Knight's commitment to maintaining the core values of journalism despite the rapidly changing environment.
"Values matter. Training matters," Ibargüen said, noting the many organizations to which Knight provides funding, including the International Center for Journalists (ICFJ).
"We do not have a 'magic bullet,'" he said. "Instead, we work with journalists who care about the present and the future. We've funded news organizations whose mission, day in and day out, is to do outstanding journalism."
He said media organizations have two choices: "We can wring our hands and pray for time to freeze...or we can look with hope and goodwill as the current leadership works to find a way that fits the times. We have two choices: curse the darkness or light the candle. At Knight, we choose light."
"Both technology and journalism matter," he said. "What we need is an open mind, the will to change and to meet the audience, and a compass trained on what is still journalism's true north: the fair, accurate, contextual search for truth."
Read Ibargüen's full speech here.