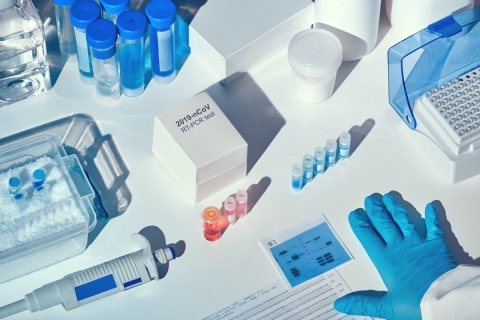 In Latin America, where the global pandemic has brought mass layoffs to newsrooms just when trustworthy information about the COVID-19 pandemic is crucial, an independent news site devoted exclusively to health reporting is providing unparalleled coverage of the health crisis.  
The site, Salud con Lupa, founded in July 2019 by ICFJ Knight Fellow Fabiola Torres, engages audiences in Spanish and English with data-driven visualizations and investigations that expose corruption in healthcare systems and explain critical health information to the public. 
During its first year, Salud con Lupa​ (which in English means "Health Under a Magnifying Glass") revealed abuses of power in Latin American's health care systems, uncovered mistreatment of women in maternity wards, and showed how powerful financial interests shape nutrition labeling in the region. 
Before the novel coronavirus had even appeared in the region, Salud con Lupa was tracking the virus' path and warning its audience about the imminent health threat. The site showed how the novel coronavirus heightened inequality in Brazil; revealed massive purchases of detection tests by Argentina, Ecuador, Chile, Colombia and Peru; and reported on El Salvador and Venezuela's purchase of Interferon despite its status as an unproven treatment. 
Salud con Lupa was uniquely prepared not simply to report the story, but to drive coverage about how the global health crisis would affect the lives of people in Latin America and the Caribbean. With additional support from the ICFJ Knight Fellowships, Salud con Lupa expanded by bringing on ten full-time reporters in ten countries across the region to spend six months covering the pandemic and its aftermath. 
Across the region, Salud con Lupa is exposing everything from corrupt spending practices to poor patient care. Their COVID-19 coverage receives more than 20,000 page views per day, and that number is growing. "We are providing readers with information that otherwise would go unreported," Torres said. 
 
Uncovering Corruption
As municipal and national governments rushed to provide funding to fight the pandemic, Salud con Lupa examined how those funds were actually spent, uncovering corruption in the process: 
In Argentina, the city of Buenos Aires launched an investigation of its spending practices after a Salud con Lupa story showed that the city wasted $2.4 million buying masks that were never delivered.
In El Salvador, Salud con Lupa broke the story that a Salvadoran official, whose office bars him from receiving state contracts, had sold the government 100,000 face shields at an inflated price.  As a result, President Nayib Bukele fired the official, Jorge Aguilar, from his position as director for El Salvador's Environmental Fund.
Salud con Lupa's reporting also prompted other Salvadoran news outlets to dig into other corruption in government contracts, which led to the removal of the official who had "taken advantage of the pandemic emergency to do business with government purchases," Torres said.
In Colombia, Salud con Lupa examined which funeral companies were receiving the most public money for performing cremations of COVID-19 victims. When reporters revealed that one of these companies had also violated environmental regulations by improperly disposing of demolition and construction materials, that firm lost its contract. 
"In the coming months, we will continue to examine whether the public money allocated during this crisis has truly improved public health infrastructure or the conditions of health personnel" as governments promised.
 
Exposing Poor Health Conditions and Treatment
Salud con Lupa has also reported on vulnerable communities and groups. 
In Argentina, Salud con Lupa and a partner newspaper, Perfil, revealed woeful conditions at a psychiatric hospital for women in Buenos Aires. They reported that Hospital Braulio A. Moyano had isolated patients from their families for four months and had failed to give patients personal protective equipment (PPE) or to ensure proper hygiene amid the COVID-19 pandemic.  A week later, a municipal court took notice. It ordered the hospital to provide patients with protective supplies, including masks, and to enable them to stay in contact with their family members and lawyers, which the court said is "extremely important in the lives of people with mental disorders." 
In Mexico,  Salud con Lupa reporters interviewed more than 200 medical workers in Mexico City who said they had received verbal abuse and even physical attacks from random citizens when they appeared in public wearing medical uniforms. The workers attributed the attacks to stigma surrounding COVID-19. 
The site's series "Los Otros Pacientes" ("The Other Patients") showed how, across the region,  patients with conditions other than COVID-19 are suffering as health care systems pour all of their resources into fighting the pandemic. This is causing "collateral damage on various groups of the population with other diseases that are no longer a priority in the health care system," Torres said. 
 
Engaging Young Audiences
Salud con Lupa wants to engage Latin American youth with videos and interactives that explain facts and debunk false information about the virus.
"It is important to disseminate verified information to young people because many of them underestimate the impact of the virus and go out on the streets, are asymptomatic and transmit the disease to others," Torres said. "We think that if they are better informed they could be more responsible and help prevent it."
"We'll help our journalism partners find these audiences by building and publishing for social media, which is where young people consume most of their news," Torres said. 
Torres said reporters will also look at the mental health of people across the region in the wake of the pandemic.
Through ICFJ's Global Health Crisis Reporting Forum, the Lupa Fellows will also offer advice to reporters covering critical issues for the region, such as the plight of migrants and pandemic-related corruption in Latin America. 
Main image credit: Salud con Lupa