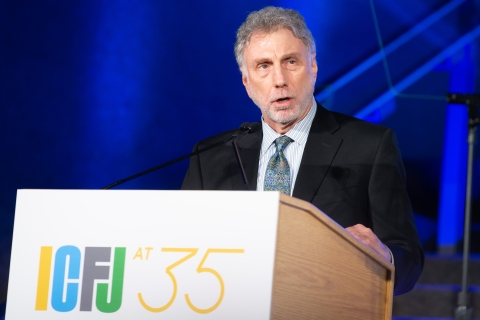 Journalists have no alternative but to push back against those who cynically distort the truth in the service of political ambition, said Washington Post executive editor Martin Baron as he accepted a top award from the International Center for Journalists (ICFJ). 
Baron urged today's journalists to protect their rights for the sake of future generations. He said journalists must have the courage to exercise their constitutional rights by doing their job even while under siege. "Rights mean nothing if we lack the courage to exercise them," he added.
Baron took aim at President Trump for muddling the facts and stifling independent voices. "The President excels at such deceptions, and revels in them," he said. "And the objective is clear: Ensure that the public ignores anyone who might contradict him. Extinguish independent voices. Get voters to believe no one but himself — 100% of the time. Though the President seems aggressively allergic to any scrutiny, we have no alternative but to hold him to account — all public officials, in fact."
He said, "The president can call us scum or garbage or fake news or enemies of the people or traitors to the country. He can call us any name he'd like. He can make his war against us. We must do our work." 
Baron, one of the leading editors of our time, noted such attacks are not unprecedented in this country. He recalled the Sedition Act of 1798, the Espionage Act of 1917, the McCarthy era of the 1950s and the Nixon administration's efforts to undermine truth in the 1970s.
"Vigilance of public officials is, above all, the task democracy imposes on journalism," he said. "Over the course of centuries, journalists fought for that right. Our predecessors thought not only of their own freedoms but of ours, knowing full well that they would not leave us a democracy if they did not also leave us a free press."
Newsrooms under Baron's leadership have won 14 Pulitzer Prizes, including seven at The Washington Post. While Baron was editor of the Boston Globe in 2003, the paper was awarded the Pulitzer Prize for Public Service for its investigation into sexual abuse by Catholic clergy, coverage portrayed years later in the Academy Award-winning movie "Spotlight."
Baron urged today's journalists to safeguard the rights their predecessors fought so hard to preserve. "That is how we repay a debt we owe to those who came before us," he said. "That is how we fulfill our duty to those who come after."
"There can be no better way to meet that obligation than to practice — every day — rigorous, vigorous, independent journalism that holds power to account," he continued. "Faithful to facts, dedicated to truth, fearless in spirit and unshakably committed to our mission in a democracy."
Baron received the ICFJ Founders Award, which recognizes a lifetime commitment to the highest professional standards, at ICFJ's 35th Anniversary Awards Dinner.