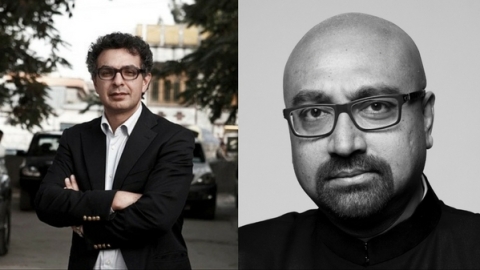 Two prominent media executives working in South Asia and the Middle East have joined the International Center for Journalists' (ICFJ) board of directors. They are Bobby Ghosh, the new editor-in-chief at the Hindustan Times in New Delhi, and Saad Mohseni, chairman and CEO of MOBY Media Group, with holdings in South and Central Asia, the Middle East and Africa.
"We are thrilled to add such deep global perspective and expertise to our board," said ICFJ Chairman Michael Golden. "Our work through our Knight Fellowships and other programs will be enriched by their insights."
In July, Ghosh began his post at the Hindustan Times, one of India's largest newspapers. Previously, Ghosh was managing editor at Quartz, the digital news site owned by Atlantic Media, and a global affairs analyst for CNN.
Before that, he worked for TIME magazine for 16 years, serving as editor of TIME International and working in bureaus in Hong Kong, London, Baghdad, New York and Washington. He honed his talent at BusinessWorld Magazine in Mumbai and New Delhi, the Far Eastern Economic Review in Hong Kong, Business Standard in Kolkata and Deccan Chronicle in Visakhapatnam, India.
Mohseni is the Chairman and CEO of MOBY Group, which his family launched in 2003. The media group now employs 1,200 staffers, reaching an audience of more than 300 million people from South and Central Asia to the Middle East and Africa.
Its Afghan operations include TV and radio networks, music production, magazine publishing and other ventures — a change for the war-torn country where the Taliban once banned television.
Before starting MOBY Group, Saad led the Equities and Corporate Finance Division at one of Australia's top investment banks.
From 2002 to 2004, he served as an economic adviser to the Afghan government, focusing on the development of the Afghan Investment Support Agency, the High Commission for Investment and the Industrial Parks Commission.
In 2011, TIME Magazine named him one of the 100 most influential people in the world. Two years later he was recognized by Foreign Policy Magazine as one of their 100 Global Thinkers.