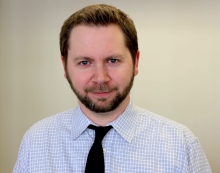 The International Center for Journalists (ICFJ) has named Benjamin Colmery as the director of the Knight International Journalism Fellowships. He replaces Jorge Luis Sierra, who will become a Knight Fellow specializing in global security initiatives for journalists.
Since 2010, Colmery has been the deputy director of the program. "Ben has done a stellar job working with the Fellows, and we're thrilled to have him stepping up and taking charge," Vice President of Programs Patrick Butler said.
Among his achievements, Colmery has instituted a comprehensive system for tracking the work and impact of the Knight Fellows. Each Fellow manages multiple complex programs. His system keeps tabs on everything from new networks and digital tools to societal changes resulting from work of the Fellows.
Before joining ICFJ, Colmery served as a program development consultant and new media expert for the European Journalism Centre. Prior to that, he was the evaluation supervisor for journalism training programs in 20 African nations as part of a Thomson Reuters Foundation project led by Columbia University. Colmery was a Peace Corps Volunteer in Ukraine, where he started a journalism training program in several small communities following the Orange Revolution in 2004.
He holds a master's degree in International Affairs, specializing in media development and communications from Columbia University's School of International and Public Affairs. He earned his bachelor's degree in English literature from Albion College.
"I am thrilled about the opportunity to work even more closely with our amazing network of Knight Fellows," said Colmery. "Together, we will seed new digital tools and news startups, transform the way newsrooms engage and understand their audiences, and forge a strong innovation pipeline."
Colmery replaces Jorge Luis Sierra, who led ICFJ's Knight program in 2014. From 2010 to 2013, Sierra served as an ICFJ Knight Fellow focusing on digital mapping and security tools in Panama and his native Mexico. He will now work on global security initiatives that enhance the physical and digital safety of journalists, bloggers and others who work on freedom of expression.
Other ICFJ staff changes:
Lyndsey Wajert has become a program manager. Wajert has successfully worked on a variety of programs, including the Bringing Home the World Fellowships, which sends minority journalists overseas to report on global stories of importance to their local communities.

Nolan Meyer has become a program officer. Meyer has done outstanding work on a program for Pakistani journalists who spend three weeks in U.S. newsrooms.

Kyle Thompson has become a program officer. Working with Colmery, Thompson provides organizational and logistical support for the Knight International Journalism Fellowships program.