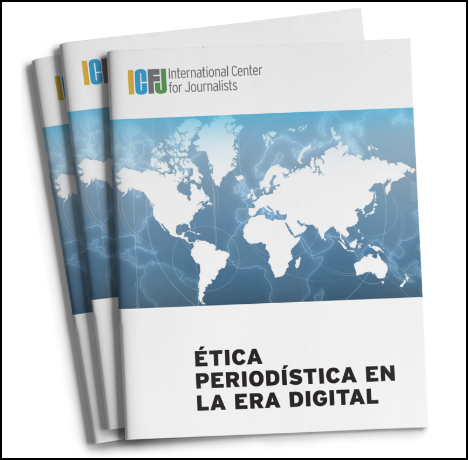 When drug traffickers set trucks on fire and blocked roads throughout Guadalajara, Mexico, radio journalist Priscila Hernández faced a dilemma. She saw an avalanche of information about the violent crisis on social media, and her station wanted her to send information immediately. But how could she be sure about the accuracy of information she was seeing on social media? 
She wrestled with a choice: She could quickly report information that might save people's lives, but she risked getting it wrong. Or she could hold off on reporting  until she could confirm it, but that could mean losing the audience and possibly keeping important information from them.
This is one of the cases journalists face in a new media ecosystem where citizens get most of their news from family and friends via social networks, often faster than from traditional news organizations. To help journalists understand the ethics of the digital age and think critically about ways to make better decisions, the International Center for Journalists (ICFJ) has published "Etica Periodística en la Era Digital" ("Journalism Ethics in the Digital Age").
I was fortunate to collaborate on the manual with renowned Colombian ethics expert Javier Darío Restrepo on the manual - a project supported by UNESCO and the government of Sweden. The manual includes five short videos highlighting major ethical challenges and recommendations for improving the decision-making process. The videos address such issues such as how to deal with fake news, digital manipulation, viral information, privacy, the echo chamber in social media networks, and violence. 
The manual also recommends that media outlets develop initiatives to engage citizens in the information process while promoting fact-checking units, news literacy programs, and more in-depth, data-driven journalism.
The goal is that journalism students, educators and professionals use these resources to both intensify and inform the conversation on journalism ethics today, said Guilherme Canela De Souza Godoi, UNESCO director for Latin America.  The manual and videos provide them "with robust and concrete criteria on how to deal with some of the critical issues on the table," he said.
In Hernández's case, she told her editors she needed time to verify the story. She argued that it was more important to get it right than to get it first. Getting it wrong, she reasoned, could have serious consequences for her listeners. After getting the facts, she filed her report.
I urge you to check out a microsite developed by the International Center for Journalists (ICFJ), where the  ethics cases can be easily shared with colleagues in Latin America. Learn more.
Botello is the Deputy Vice President for New Initiatives and Impact at ICFJ. He has deep experience training in journalism ethics in Latin America over the past two decades.