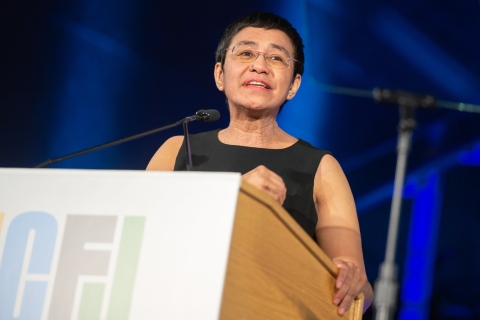 The legal pressure on Filipino journalist Maria Ressa and her independent news site, Rappler.com, continues to mount. With the latest court filings, our 2018 Knight International Journalism Award winner's media organization is now battling five tax cases. And Ressa - a beacon of quality journalism - faces possible arrest.
The aggressive legal cases against Rappler and Ressa are a clear attempt to silence their important reporting. That's why we at the International Center for Journalists (ICFJ) are contributing to their legal defense - and we hope you will, too.
The Committee to Protect Journalists and First Look Media's Press Freedom Defense Fund, with support from ICFJ and Reporters Without Borders, today announced a fundraising campaign for embattled journalists. The campaign will provide legal support for journalists facing extensive legal battles meant to suppress critical journalism. The project currently has $100,000 pledged and aims to raise $500,000. Rappler and Ressa are the first recipients of the newly launched campaign.
Last month, ICFJ recognized Ressa with our 2018 Knight International Journalism Award. The intrepid editor and media innovator - whose storied career includes two decades with CNN - founded Rappler in 2012 to hold truth to power. Their unyielding coverage has held a spotlight to the Philippine government's bloody war on drugs, dangerous online disinformation campaigns and more.
As Ressa herself has said, these are not just attacks on one media organization. They are attacks on press freedom and democracy itself.
Ressa, one of the most respected journalists I know, has vowed to hold the line.
"We continue to tell the story of the nation," said Ressa, in a Rappler article. "These cases will not intimidate nor distract us from holding public officials to account through our stories."
We stand with Ressa and her brave team at Rappler in holding that line. Along with independent journalists everywhere, Rappler and Ressa must be allowed to produce the kind of quality coverage that informs the public, improves lives and strengthens our democracies.
Those interested in helping to support the legal fund can make a donation through the Press Freedom Defense Fund website.