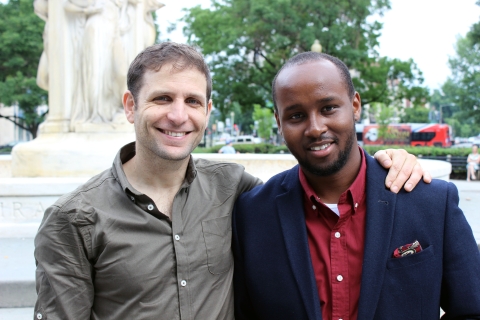 Technological innovations have created many opportunities for journalists to report and tell stories in new ways. As ICFJ Knight International Journalism Fellows, Adi Eyal and David Lemayian will help to spark collaborations between journalists and developers on health and development reporting projects across Africa. They will join the team of ICFJ Knight Fellows leading ICFJ's and Code for Africa's data journalism initiative in Africa.
The new ICFJ Knight Fellows, based in South Africa and Kenya, are experienced technologists and digital strategists, with a proven record of collaborating with newsrooms to produce innovative data-driven multimedia projects. Lemayian has served as Code for Africa's lead technologist for more than three years. He oversees Code for Africa's tech team that builds tools for journalists, such as "Dodgy Doctors" and sourceAFRICA, and he helps reporters to incorporate the projects into their daily work.
Eyal is the director of Code for South Africa, a civic and data journalism technology organization that provides technical expertise to local newsrooms reporting on development issues. For example, Code4SA has recently helped local journalists produce an article about how city planning dating back to the apartheid era continues to negatively affect black South Africans. They've also built an interactive story, using data, maps and video, to show what daily life is like inside of Cape Town's informal settlements that were not counted in South Africa's most recent census.
Eyal and Lemayian said their Fellowships will lead to news innovation through new partnerships between journalists and technologists. They spoke with ICFJ about their upcoming plans.
Why do you think it's important for journalists and technologists to work together?
Lemayian: I think it's important because I believe that a story well told can change humanity, and in this age of innovation and technology, we have an unprecedented opportunity to tell and find stories in new and meaningful ways by combining the skillsets of journalists and developers.
Eyal: The question I get about Code for South Africa sometimes is "why media?" We're a technology-based non-profit organization and the thing that we really care about is helping people make more informed decisions. How do you do that? The media provides an amazing platform to be able to influence the way that people think and to change the way that they understand the world. ... We decided that we're going to start working with journalists because the way that journalists are working, certainly in the South African context, hasn't changed in a long time, and we thought that given the fact we have new technologies and new channels and new ways of communicating with readers and telling stories, we really needed to start working with that industry and find out how to we can improve the way that readers consume content.
What tips do you have for journalists who want to start working with technologists?
Lemayian: You begin by experimenting. Do not fear taking the leap because you can experiment first. Read all you can. There's some amazing blog posts on IJNet, there's some amazing resources all over the Internet, including School of Data, but at the end of the day, experiment! Try it with one story that you're starting with that you're doing right now. Look at what data is available already. Just Google. Google is your friend, and that's where you can start.
Eyal: Data journalism is a really exciting field. You know we have all these new tools and data, visualizations, programming and it's very easy to become quite infatuated with it and fall head over heals with all of these new ways of working. What I would say, and it seems obvious, is that the job of a journalist is to tell stories and to inform. Technology is great and should be used carefully, only where it's effective and where it actually makes sense. For me, data journalism is really "data Journalism" as opposed to "Data journalism," and I think that's something that's really important and that many people forget.