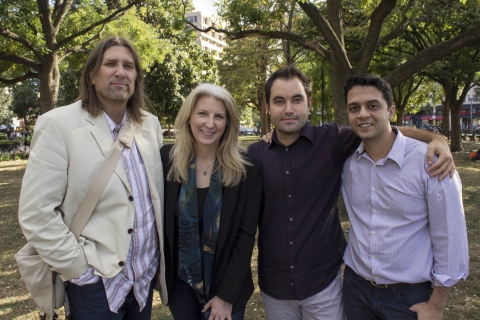 Four media leaders have been named by the International Center for Journalists to lead projects that will bring innovations to news organizations in Africa, Asia and Latin America. They join a team of ICFJ Knight Fellows who are advancing a culture of global news innovation, leading to better journalism and more engaged citizens.
Irshad Daftari is bringing the latest digital tools to Indian media to enhance their storytelling and audience engagement. This project is supported by Google News Lab.
John Kluver is a veteran TV journalist who has specialized in covering Russia and the former Soviet Union for more than 25 years. As an ICFJ Knight Fellow, he will help Kazakh TV become a first-class public broadcasting station with more enterprise reporting and high-quality news production.
Jacopo Ottaviani will manage large-scale, cross-border data journalism projects on health and development issues for Code for Africa. An experienced computer scientist and journalist, he will also develop new engagement strategies to expand these stories' reach and impact.
Janine Warner is the founder of SembraMedia, a network of Spanish-speaking digital journalists across Latin America, the United States and Europe. As part of her fellowship, she plans to launch an online school that will provide business education to journalists.
As they begin their Fellowships, Daftari, Kluver, Ottaviani and Warner talked with ICFJ about the state of media in the regions where they work and why they believe the time is ripe for news innovation projects.
What opportunities for news innovation do you see in your region of work now?
Daftari (India): Indian media are in the throes of some huge, definitive changes. … There are a few areas that I believe will see innovation – audience development and engagement for loyalty, data journalism, fact checking and verification, and finally, local news that is focused on solutions. There really is no better time for innovation than now. … Technology is making it possible to produce news in a way that's seldom been done before. News that's verified, trusted, talks about solutions rather than sensationalizing, and finally in a format that readers are most comfortable with will add up to be a winning combination.
Kluver (Kazakhstan): Sending reporters out as one-man bands has become universal in television, but reporters at my partner TV station don't do that now. They're sending the full field crew out for every single story. You have young reporters who are technologically savvy, and there's an opportunity for them to go out as one-man bands for certain stories. There are reporters who just need to know how you go live and how you go remote. These young reporters can do so much off of their laptop and their phone. If you have more people covering more stories in more places, I think the quality of the newscast generally improves.
Ottaviani (Pan-Africa): I'm experienced in data journalism and cross-platform reporting and storytelling. Data, in general, is a gold mine for new stories and a vehicle for innovation in journalism. The Panama Papers, the Migrants' Files and other large-scale, global collaborations have set a new standard for transnational data journalism projects. I think there is a lot of room for collaborative projects across the African continent. I'll try to set up a clear methodology to run and replicate these kinds of multidisciplinary projects, involving designers, developers and journalists, with a specific focus on African health and development issues.
Warner (Latin America): It's an extraordinary – and very necessary – time for news innovation in Latin America. As traditional media throughout the region are facing more layoffs this year, an explosion of digital media startups are transforming the journalism industry and creating new opportunities for reporters and editors. It's easier, cheaper (and sometimes safer) to launch a digital media project than it has ever been to launch a newspaper, radio or television station -- especially in markets that are plagued by economic instability, political corruption, or civil unrest. This low barrier to entry for smaller, nimble media innovators is at the heart of the opportunities emerging in Latin America.
As ICFJ Knight Fellows, what steps will you take to create a lasting influence on media around the world? What kinds of impacts do you think your fellowships will have?
Daftari (India): There are two things I want to accomplish as an ICFJ Knight Fellow – first, ensure that journalism looks at creating and addressing solutions rather than focusing exclusively on problems. That would empower the average man on the street to understand how his issues would be solved and his voice heard. Second, I want to train several cohorts of young journalists and activate them, with the idea that they'll become the drivers of change in their own organizations. … I'm focused on long-term impacts on society, rather than short-term gains, such as increased page views.
Kluver (Kazakhstan): My ultimate goal is to improve the newsgathering and to improve the quality of the newscast at [Kazakh TV]. I firmly believe that live [TV] is better than taped, and the station is playing a lot of taped reports now. Reporters should be going remote and broadcasting live from the scene. Kazakhstan is a huge country. It's almost as big as the United States but they only have about 20 million people, making it very sparsely populated. There are 38 million people in California alone. … Shots showing these remote places would improve the quality of their storytelling.
Ottaviani (Pan-Africa): We want to create societal change, and journalism is a tool for making it happen. Data can revolutionize the way that stories are being developed and told by media. Data can provide context to stories, allowing readers to compare their local reality with the situation in other countries and fostering pan-African public debate. Health and development topics such as water, nutrition, vaccinations and agriculture are crucial in Africa, and approaching them from a continental perspective will improve people's knowledge around these issues. If we have more reporters, more designers, more technologists joining forces on these issues, we'll be able to increase the engagement of the African audiences and possibly change people's lives.
Warner (Latin America): I'm concerned that if digital media publishers don't get much-needed help with business and technology, most of them will not last very long. I'll never say it's easy to start a digital media project, but it's becoming increasingly clear that the hardest part is keeping these businesses going year after year. … As an ICFJ Knight Fellow, my goal is to respond to [these] needs by building an online school and coordinating a team of instructors who will produce business-focused training in Spanish. We're also working on developing a technical support program where we hope to provide discounted web hosting, software solutions and strong protection against distributed denial-of-service (DDoS) attacks.