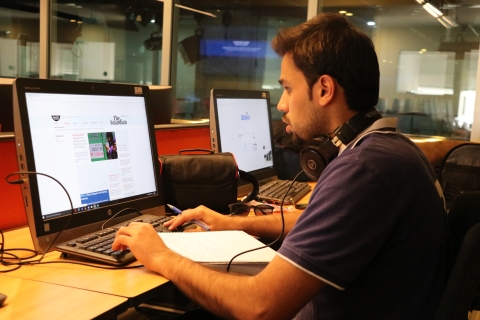 In Pakistan, where independent news media are relatively new but growing quickly, the demand for well-trained, professional journalists outpaces the supply. Yet aspiring journalists studying at the country's universities have lacked access to hands-on training. 
That's why the Centre for Excellence in Journalism (CEJ), a partnership of ICFJ, Northwestern University's Medill School of Journalism and the Institute of Business Administration (IBA) in Karachi, launched the country's first professionally focused Masters of Science in Journalism degree this semester. 
The 18-month master's program is designed to deliver cutting-edge, practical reporting skills to the next generation of Pakistani journalists. It is part of the Karachi-based CEJ, a hub for professional development, training and networking for Pakistani journalists and media professionals from all parts of the country. In addition to the new master's program, CEJ has held 24 two-week courses for professional journalists, taught by Medill faculty, ICFJ trainers and eminent local experts. CEJ also organizes conferences and awards journalists for outstanding reporting.
"We want to produce the stars of tomorrow, who go beyond the daily drab stories and produce exciting journalism," said CEJ Director Kamal Siddiqi. 
While other programs in Pakistan grant theoretically focused degrees in mass communication, "this is a Master of Science program that trains journalists in the craft," said Larry Pintak, founding dean of The Edward R. Murrow College of Communication at Washington State University, who helped develop the curriculum of the MSJ program. 
The 11 women and 10 men in the inaugural master's degree class come from a variety of fields, from journalism and communications to business, public administration, the arts and agriculture. One-third come from outside Karachi.
"Our aim is to prepare students for key positions in the age of digital news, which is limitless, relentless, and constantly evolving," said lecturer Hammad Sarfraz. He, along with fellow Pakistani journalists Muna Khan and Shahzeb Ahmed Hashim, earned master's degrees at the Medill School in preparation for teaching in the program.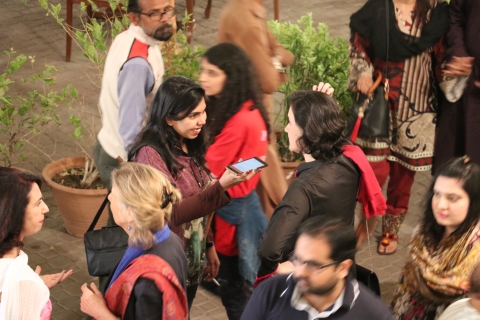 Students will gain a wide array of skills, including basic coding, data mining, photography, video and audio production and editing, podcasting, news writing and web production, Sarfraz said. They have the opportunity to learn from professional journalists in the program's state-of-the-art television and radio studios. 
The ambitious curriculum also includes courses or modules on government, foreign policy, local environmental and developmental issues, Pakistani minority communities, domestic extremism and reporter safety, Pintak added. 
What's more, students will apply what they learn by working in professional newsrooms. During the 2018 general elections in Pakistan, students will be embedded in newsrooms for two weeks for reporting and editing assignments. 
"With top-notch facilities, outstanding faculty and close ties to major Pakistani news media, CEJ will prepare its master's students for leadership roles in journalism in a way never before possible in the country," said Patrick Butler, ICFJ vice president for programs. "I wish we could help build something like this in every country where we work."
Many are looking to the program, which is funded by the U.S. Department of State, to fill training gaps in Pakistan's independent media. "Many independent news outlets — particularly TV outlets — have only emerged in the last 15 years," said Medill Professor Craig Duff, who has worked closely on developing the program. "There's a lot of catching up to do to develop a professional class of broadcast journalists, trained particularly in areas of news judgment and the skill of reporting." 
Upon graduation, faculty members say, the students will be equipped to work in any medium – broadcast, radio, digital or print.