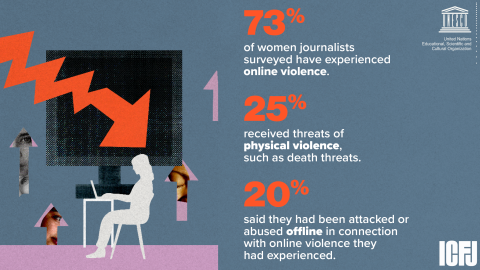 Over the past two years, ICFJ's research has illuminated a horrendous – and growing – problem of online violence against women journalists. But we know that researching the problem is just the first step. We also need to help journalists deal with this abuse.

Our newest project is working toward that goal. With the help of computer scientists at the University of Sheffield in the United Kingdom, ICFJ is laying the groundwork for an early warning system to help detect, predict and ultimately prevent violence against women journalists.

Led by our deputy vice president for global research, Dr. Julie Posetti, the project is delving into five emblematic cases of online violence against women journalists in India, Lebanon, Malta, Mexico and South Africa. Through those case studies, we'll identify key indicators and metrics that often signal the escalation of brutal digital attacks. Ultimately, we plan to develop open-source digital tools to detect, monitor and alert key responders to high-risk cases, and – we hope – keep digital attacks from escalating to attacks in the physical realm. This important project is funded by the UK's Foreign Commonwealth and Development Office.

You can learn more about this effort and other ICFJ research at two upcoming events: The International Journalism Festival in Perugia, Italy, this week, and the UNESCO World Press Freedom Day gathering in Punta del Este, Uruguay, in early May. 

In Perugia, Julie will join Indian investigative journalist Rana Ayyub – the target of vicious online abuse – for a keynote talk called "When the State attacks: Journalism under fire in the world's biggest democracy." After being stopped and held by the Indian authorities on spurious grounds last week as she attempted to board her flight to London, where she was due to participate in a public event about our research, the New Delhi Supreme Court has just overruled the government, granting Ayyub the right to travel to Perugia.

Julie and Rana are also leading a panel highlighting ICFJ's comprehensive research into online violence – "a global scourge that demands urgent action," as the panel is titled. Patricia Campos Mello of Brazil's Folha de S. Paulo and Marianna Spring of the BBC will join them.

Julie and I will also discuss another groundbreaking ICFJ research project into the effects of the COVID-19 pandemic on journalism. ICFJ has just launched a second multilingual, global survey of the pandemic's impact – after more than two years – on disinformation, media sustainability, press freedom attacks, journalists' mental health and more. The panel, titled "COVID-19: A journalism extinction event or a reformation moment?" also features Emily Bell, director of Columbia University's Tow Center for Digital Journalism (our partner in the research); Georgian journalist Natalia Antelava, co-founder and editor-in-chief of Coda Story; and Nabeelah Shabbir, senior research associate at ICFJ and research lead at the Coalition Against Online Violence.

These panels are just part of our efforts to raise awareness of these two profoundly important subjects of ICFJ's two-year-old research division. As journalists worldwide look toward an uncertain future, ICFJ will be there to provide essential guidance to help us prepare.