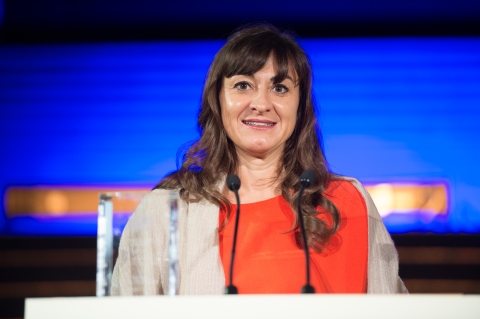 American photojournalist Lynsey Addario, whose searing images have shown the human side of conflicts from Afghanistan to South Sudan, said journalists have lost the "shield of security" that once allowed them to enter danger zones. Now, they have to hide "under the radar" to do their jobs.
"We have entered a time when journalists are increasingly under attack, simply for carrying out our work," said Addario, a Pulitzer Prize-winning photojournalist. "We have watched our friends and colleagues disappear, some detained and imprisoned by oppressive regimes, some kidnapped by rogue militias in search of a ransom, and we have sadly watched fellow journalists executed on public display."
Addario spoke during the International Center for Journalists' annual Awards Dinner, where she received the Excellence in International Reporting Award for her courageous coverage of such hot spots as Afghanistan, Iraq and Sudan.
Once kidnapped herself for six days while on assignment in Libya for The New York Times, Addario said the days were gone when foreign correspondents were granted immunity by all sides in a conflict.
"I proudly wore a press badge publicly, and we all pasted massive letters 'TV' on our cars, which was the universal sign for international correspondents," she said. "I look back now, and think about how much has changed....The TV signs have come off, and we move around in low-profile cars, disguised by headscarves and freshly-grown beards."
Addario's work appears regularly in The New York Times, National Geographic and Time magazine. She has been widely credited with putting a human face on war by focusing on soldiers, victims and refugees. Her latest piece in the Times showed the lives of three displaced children from South Sudan, Syria and Ukraine. This year, American Photo magazine named her one of the five most influential photographers of the past 25 years.
In 2009, she was part of The New York Times team that won the Pulitzer Prize for International Reporting for her photographs in a series called "Talibanistan," which chronicled life in Afghanistan under the Taliban.
Her first book, "It's What I Do: A Photographer's Life of Love and War," is scheduled to be made into a movie starring Jennifer Lawrence, directed by Steven Spielberg and produced by "American Sniper" producer Andrew Lazar.
In presenting her with the ICFJ award, Lazar said, "Lynsey's dramatic and often heart-wrenching images of citizens in the midst of conflict have helped to change our perception of war."
Addario said she continues to believe in the power of journalism despite these trying times. "It is a difficult time for journalism, and more than ever, we need organizations like the ICFJ, which support good, in-depth journalism as a catalyst for change around the world."
Watch her remarks or tribute video.