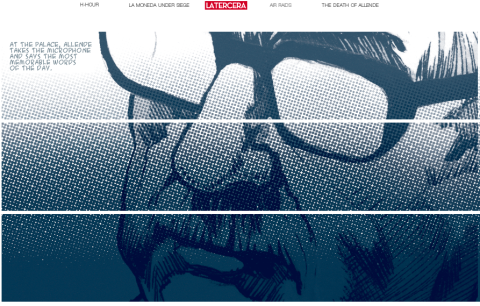 The Inter-American Press Association (IAPA) gave a project guided by two ICFJ Knight International Journalism Fellows its 2014 Infographics Award, citing its "high artistic and journalistic standards."
The interactive media project 12 Hours That Changed Chile chronicles the violent 1973 military coup d'état that brought dictator Augusto Pinochet and his ruthless regime to power.
ICFJ Knight Fellows Miguel Paz and Mariana Santos advised the creative team at Chile's La Tercera newspaper as they developed the project in 2013.

 "The authors used historical records, audio and video and numerous high-quality illustrations. The result is a document of great visual impact and force," IAPA's selection committee said.
The interactive piece was based on the in-depth article "The 24 Hours That Shook Chile," by Ascanio Cavallo, which La Tercera published in 2003.
The project's production team included Chilean journalists Andrés Azócar, Macarena Lescornez, Hugo Infante, Victor Abarca, Paula Tala, Jesús Pérez, Francisco Capone, Freddy Vasquez, Israel Muñoz and Pablo and Juan Carlos Cortes Gándara.
"We are profoundly grateful for the consulting and support provided by designer Mariana Santos throughout this project," the team wrote on the La Tercera site.
The group of journalists will accept the award in October at the 70th General Assembly of the IAPA in Santiago, Chile.
La Tercera's backstage video of how the interactive was produced.