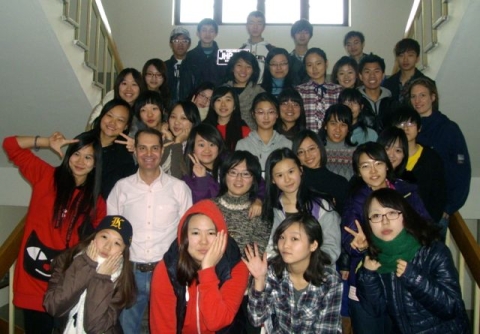 Bloomberg Professor Lee Miller mixed enthusiasm and candy with journalism basics in his "English News Writing" class to earn a place among the top 15 percent of teachers at Tsinghua University.
"I like this teacher, he did a really good job! Hope he could keep his passion forever!" one student wrote. Tsinghua students evaluate their teachers in 10 categories each semester, and each teacher receives a scoring summary and written comments.
Shi Anbin, associate dean of the journalism school, said, "I think Lee Miller is a very good example of how a qualified professional can turn into a popular professor. He shows how a member of the international faculty can acculturate himself to the Chinese way of learning and communication."
Miller taught 80 first-year students as part of the partnership between Tsinghua and the International Center for Journalists in the Global Business Journalism program. It was the first year the program was extended to undergraduates.
Miller's full-time job is Asia editor-at-large for Bloomberg News. Bloomberg has donated his services to the program as well as 10 of the prized Bloomberg data terminals.
He uses a different teaching style for the first-year students than he does with graduate students taking his "Corporate Strategies" and "Data Mining" courses.
"These kids are 18 or 19, probably away from home from the first time, and they probably have not had a foreigner for a teacher," Miller says. So he tries to be more patient and parental and offer criticism that emphasizes the positive.
The class is taught in English, but his powerpoints include a Chinese translation. There are plenty of games and prizes, from T-shirts and hats to food, especially candy from the Bloomberg office stash.
"I make everybody speak in my classes to take away the fear they may have. I don't try to criticize them; I try to help them elaborate."
Miller says he feels honored that the journalism school would entrust him with their prized undergraduates, who have proven themselves to be China's best and brightest; they have to pass through a rigorous selection process. He sees it as his responsibility to motivate as many of the students as possible "to get the bug, the fever to go into journalism."
His students seem to have been infected: "I hope Miller could take us outside more! The outside world is really different and amazing!" one wrote.
"Lee Miller is so nice! I love you, Miller!" wrote another. "You have taken me to Bloomberg, which is the best working place I have ever seen. I would like to go to Bloomberg if I was a journalist."