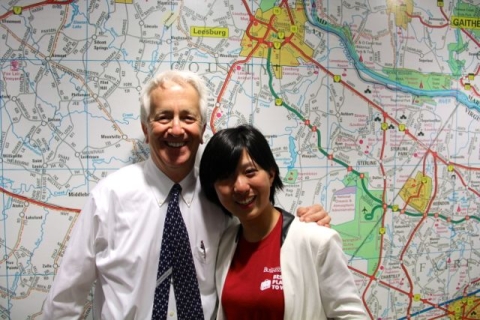 She interned at the Washington Business Journal, the city's leading business news publication, doing interviews, writing articles and taking photographs.
"It is the best journalism experience I have ever had," Wei said. "It was the first time I ever worked on a team where all the other reporters were native speakers of English. At first that made me nervous, but I learned so much."
Wei has taken several courses in the Global Business Journalism Program, which is managed jointly by ICFJ and Tsinghua University.
She said that even overhearing the reporter sitting beside her was a good learning experience: how he pitched a phone interview, how he asked questions, how he discussed the story idea with other staff members. She learned a lot about business reporting in the process.
Wei was recommended for the fellowship by GBJ Professor James Breiner. He also recommended her to the Washington Business Journal, since he knew many staff from his days as publisher of the neighboring Baltimore Business Journal. "I told them that Wei was one of our best students and would do a good job for them."
Managing Editor Robert Terry said of Wei, "She was eager to learn, good with feedback and coaching and tackled everything we threw at her with enthusiasm. A couple of spot news-type daily Web stories generated nice traffic." One, on a Magic Johnson appearance at a Howard University Hospital included pictures she took; another, combining two residential real estate studies, did very well online, Terry said, especially in social media.
Wei loved living in Washington, with all of the sights and museums. She had just come from an internship with China Daily in New York. She liked the nightlife better in New York. Washington is better by day, she said, but it empties out at night. Everyone heads home for the suburbs.