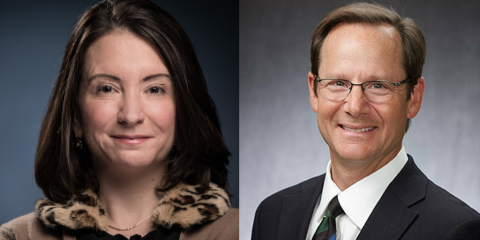 WASHINGTON – Craig Forman, president and chief executive officer of McClatchy Co., and Anne Kornblut, director of strategic communications and policy communications at Facebook, have joined the International Center for Journalists (ICFJ) Board of Directors.
Forman and Kornblut bring to the board a wealth of experience leading change at the intersection of journalism and technology.
A journalist and entrepreneur, Forman served as a media, technology and telecommunications executive immediately before joining McClatchy as CEO this year. Kornblut, a seasoned journalist and editor who has overseen Pulitzer Prize-winning coverage, is now a senior policy communications executive at Facebook.
"We're delighted to welcome Craig Forman and Anne Kornblut to the ICFJ Board," said ICFJ Board Chairman Michael Golden. "They understand firsthand the sweeping changes in news media, and their insights will be invaluable to ICFJ and the journalists we support."
Forman is ramping up digital operations for McClatchy, which operates 30 media companies in 29 markets in 14 U.S. states. Previously, he had worked in executive roles at Earthlink, Yahoo!, Time Warner, Infoseek, and Dow Jones. As a private investor, he also served on the boards of various public and private companies since 2009, including a mobile-applications advertising network and a location-based advertising company. Earlier in his career, Forman worked as a bureau chief and foreign correspondent for The Wall Street Journal. He is the author of "Be Luckier in Life," a career-strategy guide.
At Facebook, Kornblut oversees communications for COO Sheryl Sandberg, in addition to managing a team of speechwriters for senior executives and leading on policy-related communications.
Before joining Facebook in 2015, Kornblut worked at The Washington Post as a reporter and editor. She oversaw Pulitzer Prize-winning coverage of Edward Snowden's National Security Agency leaks. Kornblut's two decades of journalism experience include stints at The New York Times, The Boston Globe and the Daily News. She is the author of a book about women in politics, "Notes from the Cracked Ceiling," published in 2009 after she covered Hillary Clinton's first presidential bid.
Contact: Erin Stock, 202-349-7636, estock@icfj.org
To meet the urgent need for reliable information, ICFJ promotes a professional journalism whose primary goal is to seek the truth. We help journalists use best practices and new technologies to improve the quality of news media. We believe that better journalism leads to better lives. Follow us on Twitter at @ICFJ.