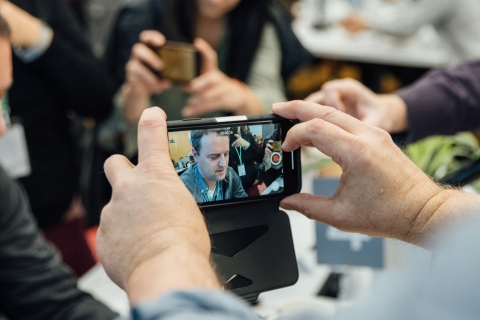 Twenty-one local news organizations in the U.S. are learning how to boost engagement and revenue using digital video, as part of an initiative from the Facebook Journalism Project and the International Center for Journalists (ICFJ) that is already seeing results in other parts of the world.
The Video Accelerator program first launched in 2018 in Latin America to help news organizations regularly produce online videos that audiences want to watch, engage with and share. The program has since been rolled out in Argentina, Brazil, Mexico, Singapore, the UK and now the U.S.
This initiative has had significant impact. In Brazil, 20 participating publishers reported increased web traffic by up to 150 percent, as well as substantial growth in engagement and views. After its experience in the Singapore Video Accelerator, the Thai newspaper Khaosod used new storytelling techniques to craft its most-watched video of the year, with three million views and 69,000 reactions in 24 hours.
As part of the program, industry leaders work as mentors to help teams tackle big challenges — technical, creative and organizational — in producing top-notch video content. Participants learn a wide range of strategies and skills, from how to staff their video teams and organize their workflow to the best storytelling and monetization techniques for different publishing platforms. After a training period, each newsroom receives a grant funded by the Facebook Journalism Project and administered by ICFJ to implement lessons learned. 
"With expert mentors and financial support, these news organizations are reworking their video strategies for lasting results," said Johanna Carrillo, ICFJ's vice president of programs. "We're thrilled to bring this to U.S. newsrooms at a time when digital video is more important than ever as a storytelling medium."
One publisher in São Paulo, Brazil, moved to revamp their video content across the entire company after attending the Video Accelerator. The company decided to adopt a mobile-first approach to video, ditching big cameras in favor of mobile phones, adjusting frames to leave space for graphics and conducting interviews on Skype. The move paid off, increasing social media followers on two channels by nearly 50 percent as of July.
"We actually got a surprise, and people started liking, commenting and sharing our videos so much more," Vitor Balciunas, head of content at the São Paulo-based Editora Perfil, told IJNet. "Our numbers are growing every day."
The following news organizations will participate in the U.S. Video Accelerator: 
Local affiliates of ABC Owned Television Stations, Cox Media Group, Entravision, FOX Television Stations, Gray Television, McClatchy, NBCUniversal Telemundo, Sinclair Broadcast Group and TEGNA, as well as Advance Local's Alabama Media Group, The Afro in Baltimore, the Atlanta Voice in Georgia, CBS in Dallas Fort Worth, Gannett's NorthJersey.com, Meredith Local, Mundo Hispanico in Georgia, Newsday in New York, Nexstar's NBC4 in Ohio, The Philadelphia Tribune, Univision Local, and WRAL News in North Carolina.
"As one of our mentors put it, video is the storytelling language of our time and the language of social media," said David Grant, the Program Manager for the Facebook Journalism Project Accelerator. "This program is helping video teams around the world create amazing stories more efficiently and monetize those stories better. We are thrilled to see where the new American participants take their lessons in the months ahead." 
The expansion of the program to the U.S. is part of the Accelerator program's global growth. This year, U.S. Video Accelerator participants are among more than 500 participants globally who will participate in the Facebook Journalism Project's Accelerator programs. That brings membership in the overall Accelerator programs since they launched to more than 1,000 participants and over 200 newsrooms worldwide. 
Journalists who want to learn more should check out the "Digital Video Playbook for Newsrooms" from the Facebook Journalism Project in partnership with ICFJ. It is an all-in-one reference guide for news teams that want to grow their video skills. It includes guidance from award-winning industry leaders on everything from writing a script and shot list to monetizing videos.