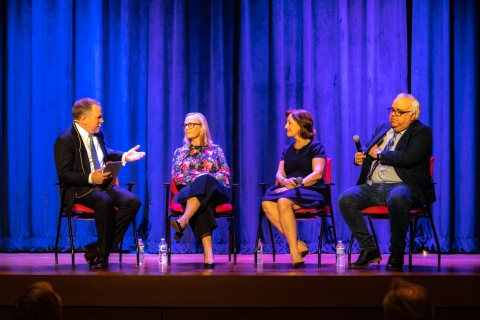 Reporters across the globe face mounting challenges to uncovering the truth, from rampant disinformation and withering business models to outright attacks by autocratic leaders. In a panel discussion last week organized by the International Center for Journalists (ICFJ), a group of experts addressed these obstacles, and how journalism can survive them.
"We are in a perfect storm of threats against journalism right now," said Patrick Butler, ICFJ's vice president of content and community, as he opened the event at the Society of the Four Arts in Palm Beach, Fla. "If journalism is at risk, then our democracy is at risk."
Christine Glancey, the Wall Street Journal's deputy editor for newsroom standards and an ICFJ board member, said disinformation in the form of "deepfakes" is a major concern that has kept her up at night. She defined deepfakes as videos, images or audio files that are altered or generated by using artificial intelligence with the intent of maliciously deceiving an audience into thinking they are real. 
For bad actors, it is only getting easier to deceive, she said. "You used to need hours and hours of video to be able to train an artificial intelligence machine to create a fictitious [President] Obama speaking," Glancey said. "Now, you need much less time, much less computing power and much less training material to get that done. So there is a lower barrier to entry."
Falling for disinformation is a huge reputational risk to any news outlet, she said. Glancey and her colleagues are putting reporters at The Journal on high alert. Rigorously vetting sources and sourced material remains critical, she said. "I feel very strongly that if we are able to maintain reader trust that journalism then has a really strong position going forward to fulfill its obligations to the reader and to then survive," Glancey said.
Another crucial challenge for journalism is developing new business models in the digital age. Jennifer Preston, vice president of journalism at the John S. and James L. Knight Foundation, pointed out that more than 2,000 newspapers in the U.S. have folded since 2004. Almost 40 percent of journalists at the local level no longer work at newspapers, she said.
But there are bright spots. Knight Foundation, which has doubled its budget for journalism programs to $300 million over five years, is seeing tremendous progress with membership models and a donation match program for nonprofit newsrooms, Preston said. 
The Foundation also is partnering with John Thornton, a venture capitalist who founded the nonprofit Texas Tribune, on a "philanthropic venture capital" model for local news. Ten not-for-profit news organizations across the U.S. are part of the first cohort of the program, called the American Journalism Project. "They are not only getting capital - not only getting runway - they're getting really great business expertise so they can become operations that are not just sustainable but are driving sustainable growth," Preston said.
One of the greatest - and most somber - challenges for journalism today is the rise in attacks on reporters. Ewald Scharfenberg, who co-founded Armando.info, had to flee Venezuela with his colleagues in 2018 after a criminal lawsuit was filed by a powerful businessman his team exposed. "In Venezuela, information is a crime," Scharfenberg told the audience.
He said he co-founded Armando.info to investigate high-level corruption that crosses borders, after government officials and their allies bought up major media in Venezuela. One of his co-founders is ICFJ Knight International Journalism Award winner Joseph Poliszuk. "When officials in Venezuela steal public funds, they are not willing to keep it under the mattress to save for the children," Scharfenberg said. "They are wanting to buy properties here in Florida, or they want to open an off-shore company in Liechtenstein or Panama or the British Virgin Islands."
The speakers agreed with Preston that there is a great return on investments in investigative journalism. Across Latin America, journalists are banding together to expose wrongdoing as part of an ICFJ-backed network of investigative reporters called Connectas, Butler said. Glancey said the Wall Street Journal, in studying subscriber behavior, has seen that readers pay for investigative reporting because it's information they can't get anywhere else.
There are other glimmers of hope despite the challenges. For one, more young people are getting into journalism, Preston said. "Journalism education enrollment is rising," she said, "because young people see that journalism is a very powerful way to make change in a world that needs change."
ICFJ thanks the excellent panelists as well as the Society of the Four Arts and ICFJ Vice Chair Pamela Howard for their support in making this such a great event.