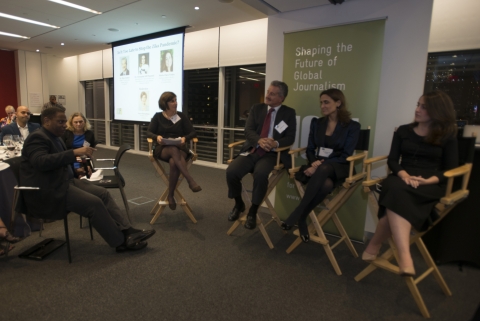 As the Zika virus spreads around the world, a panel of journalism and health experts said there was an urgent need for basic research to answer key questions about this devastating disease. Are women infected with the Zika virus able to have healthy children in the future? Can you develop immunity against the disease? Why is there a disproportionate number of children in Brazil with brain damage as a result of Zika? Are pregnant women the only ones at risk?
The panelists spoke at an Oct. 5 Awards Dinner to honor journalists from Brazil, Cameroon, China, India, Russia and Zimbabwe who won the International Center for Journalists' 2016 Global Health Reporting Contest. The contest is supported by Johnson & Johnson, which is also helping with Zika research and public awareness efforts in Brazil. The panel called "Is It Too Late to Stop a Zika Pandemic?" highlighted how scientists are scrambling to understand and battle the mysterious virus.
Dr. Max Gomez, the Emmy-winning WCBS medical reporter, said there are likely more victims than the children born with microcephaly, which leaves them with small heads and brains and other severe problems. Some children with normal-sized heads born to mothers infected by Zika are now showing signs of illness, he noted. "It's likely that many babies will be normal at birth, and then have all sorts of developmental problems," Gomez said.
He added that a new study conducted in Colombia published in the New England Journal of Medicine suggests that the Zika infection is related to an increase in the incidence of Guillain-Barré syndrome, which causes paralysis in adults. "I don't think we have seen by any stretch of the imagination the full impact of the disease," Gomez said.
Brazilian journalist Maria Clara Vieira, who covers the disease for parenting magazine Revista Crescer, said that she routinely asks researchers why the disease is thriving in Brazil in particular, with nearly 2,000 cases of microcephaly. She said some experts suspect that there may be another factor combining with a Zika infection that may be the cause.
She also said that poverty is a magnet for the disease. Mosquitos thrive in crowded, poor areas, where there is a lack of sanitation and clean water. "In these conditions, mosquitos breed and people can be infected," Vieira said. Brazilian doctors estimate that 80 to 90 percent of babies with microcephaly are from low-income families, she added.
She visited a hard-hit region in northeast Brazil and noted that families coping with children who have microcephaly are under extreme duress. Mothers often have to quit their jobs to deal full-time with the babies, who require intense medical therapy. "They cry more than a healthy baby," she said. "and because of that, many fathers are leaving the family." Of the 44 families with sick babies that joined an online support group that Vieira set up, 12 of the fathers have left.
For now, the best defense is greater public awareness on how to avoid infection, said Dr. Fernanda HB Pimentel, leader of Johnson & Johnson's Medical Affairs and Clinical Research Department for Latin America. She said as many as 80% of those infected don't have symptoms. "It is important to tell the people how the virus is transmitted because a lot of people are exposed and don't know what happened," she said. She recommended using insect repellent, wearing protective clothing and practicing safe sex because Zika can travel through semen.
Researchers are hard at work producing studies at an unprecedented rate, said Pimentel. But as cooler weather nears, the danger is that public interest in the virus will wane in the United States. In Brazil, media attention has already ebbed after an initial spate of intense coverage. "The children with the disease are now turning one year old," said Vieira. "I am afraid we are not talking enough about it." All the panelists agreed that complacency is the last thing that's needed now.