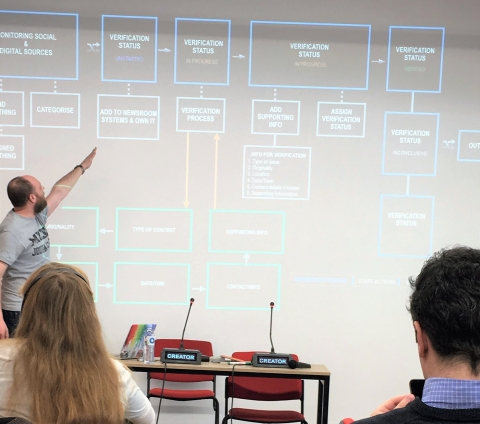 Can engaging and truthful content, distributed by a network of journalists, newsrooms and civil society organizations, break through a fog of disinformation?
ICFJ is launching a new program in Moldova designed to strengthen local networks of media creators to counter disinformation in the country. This program will empower journalists, media professionals and civil society activists with products they need for engaging and creative storytelling based on fact-checking and social media monitoring.
Disinformation spread through social media and messaging platforms has had  real and dangerous consequences around the world, exacerbating societal conflicts and triggering acts of violence. We believe that one effective response to disinformation is "trolling for truth",  adopting new approaches to storytelling that attract the attention and engagement of people who are most subject to disinformation.
ICFJ will be partnering with Meedan and Pop-Up Newsroom to beat disinformation at its own game by increasing attention in Moldova to credible and trustworthy information using creative storytelling methods.
About the Program
This program will build a sustainable network of journalists in Moldova that can test and refine different approaches to creative storytelling,  distribution of credible media and viral debunking in response to local needs, including the upcoming Moldovan 2019 election.
Activities will include:
Pop-Up Newsroom: mobilizing a network of journalists in  Moldova to counter disinformation with reporting and research.

Bi-monthly training events providing instruction in  disinformation monitoring, investigative verification, social footprint analysis, and debunking strategies.

Potential reporting grants for members of the journalists network.

Travel opportunities to an international training conference for network members.
If you have any questions or are interested in participating in the Pop-Up Newsroom, please contact Amal Azimova at aazimova@icfj.org.
Program Dates:
9/27/2018 - 9/26/2019
Program Type
In-Country Program
Workshop