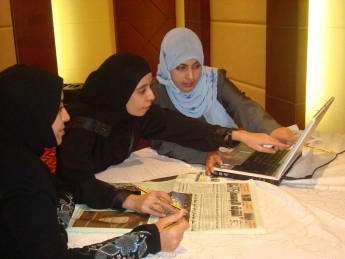 Are you a woman journalist in Saudi Arabia who is interested in gaining new skills to thrive in today's digitally-driven media environment? Then apply to this program by September 10!
ICFJ is launching an innovative program with the following activities:
Two three-day workshops – one in Riyadh and one in Jeddah. With the support of an ICFJ expert trainer, 10 women journalists in each workshop will receive hands-on training on new digital tools and learn to develop engaging storytelling techniques and methods. The trainings will take place between September 22-27, 2018.

Two months of virtual mentorship. The 20 program participants will receive consistent support and coaching from ICFJ experts for two months after they complete their workshops.

Multimedia story production. Using the skills and lessons learned from the program, participants will publish engaging multimedia stories that address issues of importance to women in Saudi Arabia. The journalist who produces the best story will receive a $500 cash prize.
The program goal is to advance the careers of young women journalists in Saudi Arabia, spur interactive, multimedia reporting that highlights underreported issues of importance to women in the country and bolster storytelling with new data journalism skills and infographics. We also look to enable the journalists to harness social media to better engage with citizens and create a rapport with their audiences.
Interested journalists will be required to submit the following as part of their application:
A short essay detailing their interest in the program and what they hope to achieve;

A proposal for a story topic or idea that explores important or underreported social issues of interest to women in the country;

A letter of support from the applicants' newsroom editors demonstrating the organization's commitment to publishing the final reporting projects;
A curriculum vitae.
To apply, please click here.
Program Dates:
11/30/2017 - 12/31/2018
Contact Info
Fatima Bahja
Research and Proposal Coordinator, New Initiatives 
fbahja@icfj.org