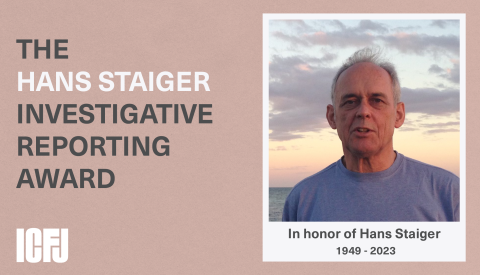 APPLY FOR THE HANS STAIGER INVESTIGATIVE REPORTING AWARD 

Journalists in the global network of the Organized Crime and Corruption Reporting Project (OCCRP) are invited to apply for the Hans Staiger Investigative Reporting Award to pursue an investigative project of their choosing. The award was established by the International Center for Journalists (ICFJ) in honor of Staiger, a longtime reporter and editor for the BBC and media development consultant with ICFJ for more than 12 years until his death in February 2023. ICFJ will administer the award. 

OCCRP-affiliated journalists can apply for a $5,000 award to work on an investigative project that requires additional funding to carry out. The funds can be used to cover travel expenses, equipment and software, contracts for experts and mentors to help with the project, and more. A panel of experts will select one project to receive funding annually. The deadline for applications is September 30, 2023,  and projects should be completed by March 1, 2024.

Applicants should submit a project idea that seeks to uncover hidden truths, expose wrongdoing, and reveal information that holds the powerful to account. Applicants will explain their connection to OCCRP and will outline the steps they intend to take to complete the project, how they will spend the funds, what security measures they will take, and when and where they plan to publish the piece. 

OCCRP will help the awardees with research, editing, fact-checking and pre-publication legal review. Investigations will be published by OCCRP in English, Russian or Spanish, and they should also be published in local media in the local language. Applications must be in English.
 

About Hans A. Staiger 
Staiger was a champion of journalism who devoted more than two decades of his life to helping fellow reporters across the world. He oversaw many programs for ICFJ, from Azerbaijan to East Timor. Most prominently, he ran the Regional Investigative Journalism Network in Eastern Europe in conjunction with OCCRP. He helped OCCRP grow into a global powerhouse of investigative journalism far beyond its original base in Sarajevo, Bosnia and Herzegovina, and he was never happier than when he was working with intrepid journalists in the OCCRP network.

Before his work with ICFJ, Staiger spent 10 years in media development for the BBC, where he started and ran the BBC School of Journalism in war-torn Sarajevo, helping to create the first generation of journalists after the war. Before beginning his media development work, Staiger spent more than 20 years as a journalist for the BBC, managing coverage of the aftermath of the Vietnam War, the fall of the Berlin Wall and the rise of democracies in Eastern Europe.

About ICFJ

The International Center for Journalists enables a global network of journalists to provide the trustworthy news essential to free and strong societies. Our vital work strengthens democratic ideals and spurs change. ICFJ serves more than 160,000 journalists around the world, helping them cover the most critical issues of today, innovate to deeply connect with communities and build news organizations that thrive. ICFJ implements about 80 programs in the United States and globally each year.

About OCCRP

With staff across six continents and hubs in Amsterdam, Washington, D.C., and Sarajevo, the Organized Crime and Corruption Reporting Project (OCCRP) is one of the largest investigative journalism organizations in the world. Founded by veteran investigative reporters Drew Sullivan and Paul Radu in 2007, OCCRP collaborates with 100+ media outlets to publish 130+ stories a year that hold power to account. OCCRP investigations have helped return over $10 billion in illicitly acquired funds to the public sphere and led to more than 600 arrests, sentences, and indictments.
Program Dates:
10/1/2023 - 3/1/2024