This course brought together the most up-to-date research and reporting with a select group of international journalists committed to working together in dialogue to provide fair and accurate coverage of the people, beliefs, policies and practices shaping the political life of nations throughout the world. During the online seminar, participants: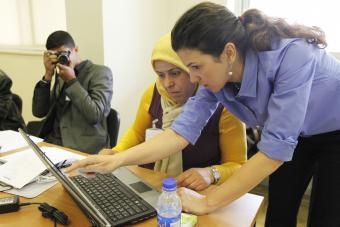 Explored coverage of religion and politics around the world, sharing a wide range of professional approaches.
Examined up-to-the-minute case studies of issues relating to religion and politics from the Middle East to West Africa to Europe to the United States. The seminar was flexible in responding to the latest news related to religion demanding the world's attention. Several examples of international reporting and online conversations challenged participants to become the best in the field in understanding and writing about religious issues.
Received objective tools for covering religion and politics through access to sources and the latest international research. Online tutorials offered step-by-step help to guide reporters to relevant data.
Explored the political, cultural and economic – as well as the religious – factors behind public policy issues and political conflicts that are often too narrowly defined in one category.
Discussed ethical issues in reporting on religion and politics, from the need to tell all sides of a story to the practical concerns of reporters' personal and job safety in challenging powerful forces in their own countries.
Developed collegial partnerships for international reporters to work together.
The seminar, which was offered in English and Arabic, was designed to be a lasting resource for journalists leading the field in excellence in religion writing and reporting. The course was run by:
Stephen Franklin (Lead instructor) is a former reporter and foreign correspondent for the Chicago Tribune and has reported from Afghanistan to Peru. He has also trained journalists in Egypt and Saudi Arabia. He was a fellow with the International Center for Journalists in Egypt, and designed courses for the ICFJ dealing with labor and economics in the Arab world and with immigration in the US and Latin America. He is the editor and project manager for Islam on Main Street, an effort to explain Islam to US journalists. The effort has produced two websites and a book is due out in Spring 2013. He currently trains and organizes black, Latino and immigrant journalists in Chicago. An award-winning journalist, he also worked in newspapers in Detroit, Philadelphia, Pittsburgh and Miami. He has a master's degree in political science from American University in Washington, D.C., and has taught at the University of Illinois, DePaul University, Columbia College (Chicago) and American University in Cairo. He was a US Peace Corps Volunteer in Turkey.
Elisa Di Benedetto (Co-instructor) is a journalist based in the North-East of Italy. She has worked in the field of journalism and communication for ten years. She started her career working for an Italian daily newspaper and for the past five years she has covered a variety of topics from cross-cultural and cross-religion issues to immigration to Italy, from civil-military cooperation to gender issues. Her areas of focus include the role of media in peacekeeping process and conflict resolution. As an independent and embedded free-lance journalist, she reported on Afghanistan, Lebanon and Kosovo. She holds a bachelor's degree in Communication Studies from the Alma Mater Studiorum University of Bologna in Italy and a master's degree in Peacekeeping and Security Studies from RomaTre University of Rome. She is a founding member of the IARJ – International Association of Religion Journalists and in 2010 she received the international award "Giornalisti Del Mediterraneo - Journalists of the Mediterranean-Italian Peace Operations Section".
Program Dates:
1/7/2016 - 2/15/2016