The Mentoring Center gave us a great advantage. The venture to support building new media projects amid the financial, political and economic challenges in the Arab world is worth promoting.
-Balkiss Abdelrida, founder of an economic news and training website and 2015 Mentoring Center participant (Lebanon)
The IJNet Arabic Mentoring Center gives digital media entrepreneurs the skills and resources they need to take their startups to the next level in one of the world's most challenging regions for journalists. 
Entrepreneurs in the Middle East and North Africa participate in a year-long program that includes virtual and in-person training and features a two-day boot camp alongside the ARIJ conference in Jordan. IJNet awards up to US$12,000 in seed funding to the participants with the most promising projects.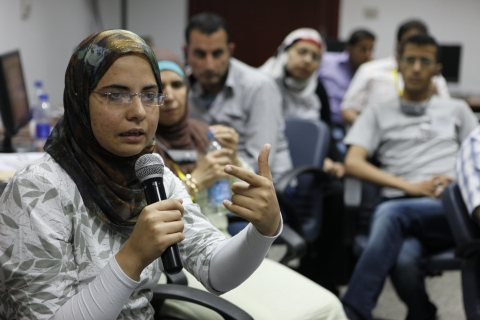 Since 2014, the Mentoring Center has catalyzed a culture of entrepreneurship and independent media across the MENA region. Among the highlights:
Yasmine Ibrahim El Shayeb, a 2015 Mentoring Center participant from Egypt, has expanded the funding for her Digital Museum of Women project — a platform that documents women's history and current issues in Egypt. Additional funding, from an Egyptian foundation that advocates for cultural development Egypt's German Cultural Institute, totals more than US$30,000.
Zeid Alfatlawy, a 2015 participant from Iraq who also won a US$1,000 grant from the Mentoring Center, has won several local journalism awards for his work at Akad News Agency, the independent Iraqi news site he incubated through the program.
Soufian Saoudi, a 2014 Mentoring Center alum from Morocco, has continued to secure funding to expand Dyalnapod, a podcast and audio blog about social justice issues which he fleshed out during his Mentoring Center experience. He also received funding to attend the Anna Lindh Foundation's 2016 Mediterranean Forum for civil society organizations in the region. There, he attended a Facebook-sponsored training session and networked with journalists from AJ+ and local television news. Saoudi is currently working to turn Dyalnapod into a community radio station. 
Nearly 40 of the Mentoring Center's 47 alumni have been able to sustain their digital media startups beyond their year with the Mentoring Center, while the rest have used the lessons they learned from their experience to pursue new projects.
About the Fellowship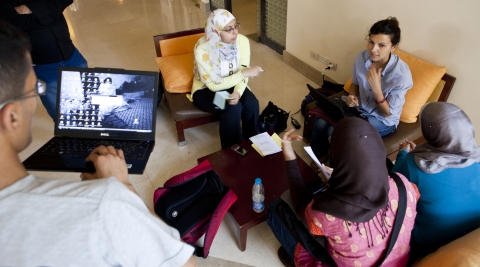 IJNet and a group of experts who serve as the project's mentors choose 16 semi-finalists from the pool of applicants to participate in a month-long online training seminar that will help them further hone their proposed action plans.
Once the seminar is complete, the mentors select the eight media startups with the best potential for success. The leaders of these eight startups attend a training boot camp where they meet their mentors, additional trainers and guest speakers in Amman. Following the boot camp, mentees attend that year's Forum for Arab Investigative Journalism, organized by the Arab Reporters for Investigative Journalism (ARIJ). In 2020, the Mentoring Center boot camp and ARIJ Forum will both be held virtually.
In addition to the boot camp and conference, the eight mentees receive 10 months of intensive, personalized mentoring and networking meetings to address key areas and ensure the growth, sustainability and development of their startups. Mentors visit the mentees at their offices in their home countries.
Mentees invest about five hours per week in the mentoring project, and also commit to:
Participating in at least three online meetings with all of the program's mentors and mentees to discuss common challenges and possible solutions
Participating in the training boot camp
Meeting the mentor in person in the mentee's home country
Producing blog posts for IJNet Arabic about the mentoring experience, sharing lessons learned, new skills and useful tools with the wider IJNet community of more than 25,000 journalists who visit IJNet from the region