Five U.S.-based journalists were selected for 12-day reporting trips to Japan, conducted throughout the summer and fall of 2014, in the second year of ICFJ's "Illuminating Today's Japan for American Audiences" program. The participating journalists worked with an experienced Japanese interpreter and fixer, and dug into the economic, social, environmental and energy-policy challenges facing the country.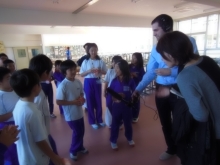 Although the world is interconnected as never before, international news coverage is likely at an all-time low. As important as Japan is in the constellation of U.S. relationships abroad, Japan's appearances in the news reflect neither its global importance nor that of the Japan-U.S. relationship. This program, organized by ICFJ and funded by the United States-Japan Foundation and the Japan-United States Friendship Commission, helped to make independent coverage of neglected issues possible. As a result of this program, American audiences received fresh, innovative coverage of topics that highlighted Japan.
Participants were selected based on the quality of story ideas, as the stories have immediate relevance in the journalists' own communities. Examples of issues that journalists explored include business, trade, energy, culture, immigration and climate change. Other key considerations included the journalists' professional qualifications, level of experience, and their media organization's audience. Former participants have produced stories for media outlets including NPR, National Journal and PRI's The World.
PHASE 1: Orientation – Late February 2014
Before the selected journalists traveled to Japan to begin reporting, ICFJ program staff, participants and the Japanese fixer and interpreter convened in a series of web conferences using Google Hangout. These opportunities acquainted the journalists with one another and the Japanese interpreter-fixer who assisted them during their individual 12-day reporting tours. The Google Hangout sessions also offered an opportunity to discuss each journalist's story ideas, suggested ways to fine-tune their approaches, determined their travel schedules, and identified key people to interview. ICFJ program staff assisted with travel arrangements, visas and other logistics. Orientation took place in late February 2014.
PHASE 2: Individual Travel and Tours – June - October 2014
After the orientation program, the journalists departed for their individual 12-day reporting tours over a five-month period accompanied by an experienced Japanese reporter and journalist. Participants worked with the Japanese expert to organize necessary meetings and plan travel around Japan.
PHASE 3: Return and completion of reporting – June - December 2014
After the American journalists returned home, they completed their stories for publication or broadcast. The group gathered via Google Hangout for a final time in December to discuss their experiences.