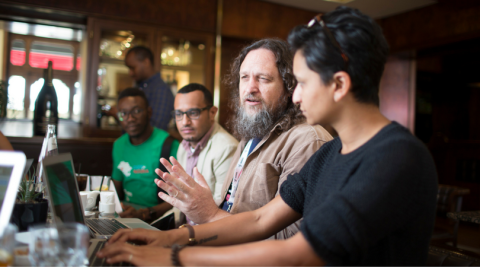 In October 2016, the International Center for Journalists, in partnership with Code for Africa, will bring together 75 journalists, editors, technologists, civic watchdogs and digital designers in Casablanca, Morocco, for an intensive, three-day data boot camp.
Modeled on previous ICFJ and Code for Africa data boot camps, this program will give citizen journalists, media professionals and civil-society activists strategies and tools to access data. Participants will work with data-journalism experts, developers, designers and others to find and analyze data and then use it in compelling stories that shed new light on society.
The boot camp will include hands-on digital and data-skills training with four skilled trainers. Participants will be mentored as they work in teams on in-depth projects. The goal is to launch projects that can be published, posted and/or aired.
The boot camp trainers will select the three best projects, which will receive seed funding and ongoing guidance from Code for Africa and ICFJ.
The boot camp is free of charge for selected participants. Lunch and local transportation to L'Université Mundiapolis de Casablanca, where the boot camp will be held, will be included. English-Arabic interpretation will be available.
This data journalism program is generously funded by News Corp and supported by Code for Africa.
Participants must be locally based in Casablanca, Morocco, and must register by Oct. 14, 2016. All registered applicants will be notified if they are accepted to attend the boot camp.
We are no longer accepting applications for this program.
Program Dates:
10/1/2016 - 10/3/2016