U.S. journalists can win a reporting fellowship to attend the International Family Planning Conference in Addis Ababa, Ethiopia on November 12-15. The journalists will spend six days meeting leading family planning experts from around the world, attending formal sessions of the conference and participating in site visits to clinics and schools to learn about family planning education, tools and services and hear from women themselves about what they want and need.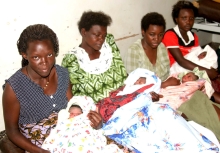 Fellows would depart for Ethiopia on November 9, and return to their home states November 16. While all are encouraged to apply, journalists from the following states and from Washington, D.C., will be prioritized: California, Connecticut, Florida, Pennsylvania, New Jersey, New York, Tennessee, Texas and Washington. Applicants from all types of media are welcome.
The fellowship covers all costs, including airfare, visas, accommodations, ground transportation and meals.
The International Family Planning Reporting Fellowship is organized by the International Center for Journalists and sponsored by the United Nations Foundation.
The conference will be co-hosted by the Bill & Melinda Gates Institute for Population and Reproductive Health at Johns Hopkins Bloomberg School of Public Health and the Federal Ministry of Health of Ethiopia.