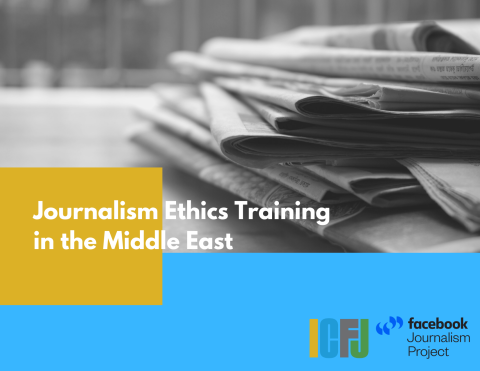 In partnership with the Facebook Journalism Project, ICFJ has designed a training program focused on ethical reporting practices for journalists in the Arab world.
The program will target Arab journalists and media managers from legacy as well as digital outlets across the Middle East and North Africa with the objective of training such media professionals on the principles and practices of ethical reporting and engaging participants in discussions on practices to improve their reporting on sensitive issues, like gender, child safety, self harm, and more.
Webinars
○     Gender issues, sexual abuse and harassment 
○     Child safety, health and education
○     Migrants and refugees (including labor migration)
○     Mental health, self-harm and suicide
○     Racial and religious minorities
Virtual Discussions 
ICFJ will host three virtual discussions that will engage select journalists and media managers from the region in an examination of established journalistic norms and whether or how they need to be revised in the coverage of sensitive issues. Additionally, ICFJ will offer tailored consultation to a small number of news organizations around institutional practices and guidelines for ethical reporting. 
Program Dates:
8/16/2021 - 4/30/2022