ICFJ Knight Fellow, Pakistan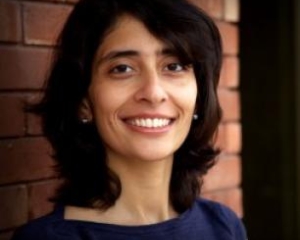 Knight International Journalism Fellow Rahma Muhammad Mian is a media development consultant who is cultivating a culture of news innovation in Pakistan. She is leading the creation of a citizen engagement lab to support data-driven media projects, as well as building networks to establish closer ties and collaborations between the news, technology and open government communities in Pakistan.
Mian has worked on open data initiatives, media innovation, ethics and improving journalism standards in Pakistan. For more than seven years, she was an editor, reporter and producer for some of Pakistan's leading Pakistani news organizations. She has extensive hands-on experience setting up and running newsrooms as a member of the teams that launched The Express Tribune and the English-language news channel Express 24/7. Mian has also conducted extensive media training and capacity-enhancement exercises in newsrooms.
Most recently, she was a consultant on developing journalism and technology programs with the Punjab state government's Information and Technology Board (PITB) and Information Technology University (ITU) in Lahore. This work sparked cooperation between major news organizations and Pakistan's first open data initiative.
Mian also initiated and managed Mind Your Media, a public education and advocacy project on media ethics that is part of the Coalition for Ethical Journalism in Pakistan. She led the design and creation of Mind Your Ratings, an innovative, crowd-sourced citizen feedback platform. The platform serves a media-literacy function by documenting citizen feedback on television news content.
Mian has a master's degree in Media, Culture and Communication from New York University (NYU), where she was a Fulbright Scholar. Her research interests include digital law, policy and politics, as well as surveillance and censorship in the developing world.