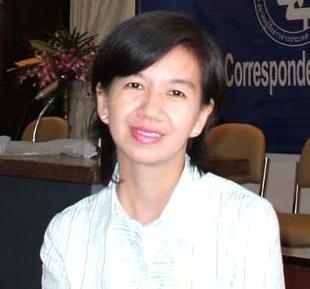 Investigative Reporter
Recipient, Knight International Journalism Award
Even before massive monk-led street protests broke out and were quickly quashed last month by the military regime, one journalist was holding Burma's ruling junta accountable.
May, 33, was the only journalist reporting for a local paper who dared to cover a rare street demonstration staged last February to protest rising commodity prices and the deterioration of the country's schools and hospitals. Arrested along with two foreign correspondents, authorities interrogated her for five hours to get her to reveal how she found out about the protest. Protecting her sources, she told them she just happened upon the demonstration. Before releasing her, the authorities confiscated and exposed the film she took of the protests. Her employer, the business magazine Myanmar Dana, was forced to fire her this year.
The media in Burma, also known as Myanmar, operate under some of the most severe constraints in the world. Joyce Barrett, a media trainer who spent three months there in 2006, describes a place where newspapers are laid out weeks before publication to allow censors to go through them. "Most of the news about Burma is published outside the country and the residents … don't know what's happening within their own borders," she says.
Despite these limitations, ongoing harassment and the threat of arrest – or worse – May Thingyan Hein has worked for years with courage and perseverance. In 2001, May wrote two investigative features about child beggars and corruption. As a result, the stories were banned, as was the use of her byline.
Still, she persisted. May dared to write about the discovery of bird flu in Burma, countering official claims that the deadly virus did not exist there. May's efforts and pressure from international groups including the World Health Organization forced the government to admit the virus' presence.
Shortly before Myanmar Dana was forced to fire her, the magazine published an investigative piece by May about a taboo topic: HIV/AIDS and how condoms provided by non-governmental organizations to be handed out for free were being sold by corrupt businessmen.
"May Thingyan Hein should be recognized for her indomitable spirit," says Barrett. "She is not cowed by Burma's junta. She is curious, intrepid, persistent, independent, sympathetic, responsible and committed to her country and her craft."
About the Knight International Journalism Award
The Knight International Journalism Award recognizes media professionals in developing countries who have taken bold steps to keep citizens informed despite great obstacles. Past recipients include pioneering correspondents who have exposed government corruption, war crimes and other important stories. The award also has honored crusading publishers determined to maintain their independence despite enormous political and financial pressures.
Recipients of the Knight International Journalism Award epitomize the journalistic ideals fostered by the James L. and John S. Knight Foundation and the International Center for Journalists. Honorees are nominated by Knight International Journalism Fellows, other experts in the field and ICFJ staff. A five-member jury makes the final selection. This year's jury included two former Knight Fellows--Roger Atwood of the Washington Office on Latin America and John Pancake of the Washington Post—as well as Patricia Weems Gaston of the Washington Post, Owen Ullmann of USA Today, and ICFJ President Joyce Barnathan.