Thank you so much for your interesting, helpful and useful program, which helps me a lot in my profession and current job. The program has enriched my knowledge in many directions.
- Mari Javakhishvili, participant, Multimedia Skills Building Program 
During the summer of 2016, ICFJ brought 19 Georgian journalists to the United States to hone their multimedia skills and deepen their knowledge of the latest digital trends and tools.
The program included a 16-day study tour to four U.S. cities where the journalists attended training sessions, meetings and site visits that exposed them to cutting-edge digital tools, skills and methods. The program began with an orientation in Washington, D.C., and continued with stops in San Francisco; Austin, Texas; and New York City.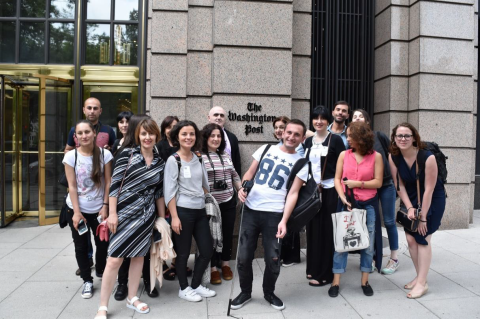 Following the study tour, the Georgians returned to their home country and received two months of online mentoring from seasoned digital journalists who helped them apply their newly acquired skills in their newsrooms. Mentors guided the participants as they worked on content production, audience engagement and innovative business models.
Some highlights:
The group met with top editors at The New York Times, The Washington Post, USA Today, National Public Radio, and the Texas Tribune.
They learned about best practices for using social media from representatives of tech giants Facebook, Google and Twitter. 
They visited major universities such as Stanford and the University of California-Berkeley and attended trainings on data journalism, video journalism, digital security, and creating sustainable business models.
About the Program
This program aimed to assist Georgian journalists by improving their professional skills and deepening their understanding of trends and tools in multimedia production and audience engagement. Participants became familiar with the U.S. media landscape and had the opportunity to build connections with their American counterparts.
The program, which ended in 2016, was funded by the Public Affairs Sections (PAS) of the United States Embassy in Georgia.
 
Program Dates:
6/1/2016 - 6/8/2016