The News Corp Fellowship was the opportunity of a lifetime. I got an epiphany for my next career move – leading the drive for digital transformation in my newsroom.
 – Hannah Ojo, The Nation News (Nigeria), News Corp 2017 participant
The News Corp Media Fellowship offers international reporters and editors an immersive, hands-on experience in some of the world's most digitally advanced newsrooms. Fellows learn firsthand how these top outlets are navigating the changing journalism landscape.  By shadowing reporters and editors across different departments, the fellows gain a comprehensive understanding of how an innovative news outlet operates in the digital age, and bring back new skills to transform their own newsrooms.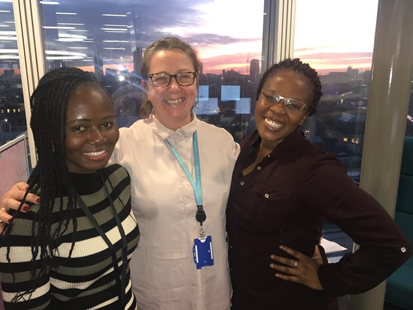 Since 2014, ICFJ and News Corp have partnered to bring journalists from Africa, India, Mexico and Russia to the company's newsrooms in New York (The Wall Street Journal) and London (The Wall Street Journal's London office and The Times). ICFJ also organizes expert briefings on journalism trends and press freedom for the fellows. 
More than 1,000 journalists have applied for the opportunity to spend one month at The Wall Street Journal and/or The Times of London.
Highlights:
Fellows from Africa (2017): One fellow is establishing a data team in her newsroom. A second  fellow is organizing training sessions to push the digital transformation of her newsroom forward.
Fellows from India (2016): Both fellows made data journalism an integral part of their work and introduced it to their newsrooms.
Fellows from Russia (2015): The Wall Street Journal published six stories from the fellows during their attachment.
Fellows from Mexico (2014): The five fellows said they were able to apply their new knowledge and skills back in their newsrooms in more than 20 tangible ways.One participant was promoted to her organization's data team as a result of the fellowship.
About the Fellowship
Each year, ICFJ and News Corp accept applications from a different  region or country, making this opportunity available to a wide range of global journalists. 
To complement the four-week fellowship, ICFJ designs a three-day orientation to meet the training needs of each year's fellows. Past topics have included mobile, investigative and innovative journalism. The participants also meet with media experts to learn more about issues such as press freedom, ethics in the digital age and media law. 
The fellowships are tailored to the individual interests and needs of the participating journalists. News Corp editors have, in the past, designed fellowship activities to focus on topics such as data journalism and visualization, audience engagement, business journalism and journalism ethics in the digital age. 
The fellowship is open to English-speaking journalists and editors. All travel expenses are covered by the program. The fellow will receive an honorarium. 
Contact Info
International Center for Journalists
2000 M Street NW, Suite 250
Washington, DC 20036
Tel: (202) 737-3700