ICFJ's Reporting Program on Migration and Climate empowers Nigerian journalists to produce quality coverage of population movements and their impact on climate and economic prospects. Journalists work with global experts on climate and migration. Participants also learn about new data and storytelling strategies to better cover critical issues such as the effects of violence and instability on migration in Nigeria.
Forty journalists from nine cities from Lagos to Sokoto took part in the program in 2017, producing more than 50 stories that reached millions of readers and listeners in Africa's most populous country.  The 2017 program concluded with a story contest in which the three best contenders received cash awards.
The 2017 winners were:
First place: Ochiaka Ugwu of People's Daily for "The People Whose Soil is Turning to Trash," a compelling story that uses the voices of poor, struggling farmers to examine the harsh impact of desertification on communities whose residents are forced to leave because the land will no longer sustain them. The story appeared in the online Denton Newspaper.
Second place: Babatunde Okunlola of Royal FM for "Illorin: The Place Called Away," an in-depth radio report on massive dump sites that result from population growth and the resulting damage to the environment and public health.
Third place: Kelechukwu Iruoma for a multimedia story that uses photos, charts and video in recounting how the Benue region is losing its status as a food basket amid climate change challenges. The story appeared in the online news site Ripples Nigeria.
Honorable mention: A special mention goes to Vanessa Offiong for her story, "When Antenatal is a Luxury: the IDP Story," which examined the high cost and low availability of care for pregnant women living in camps for internally displaced persons (IDPs).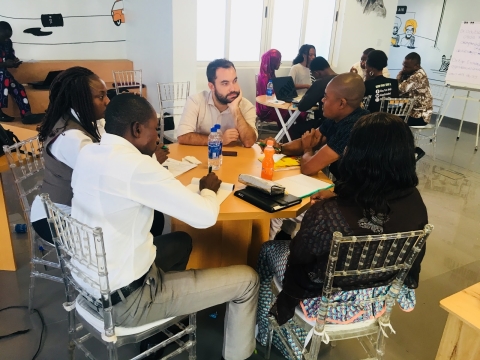 About the Fellowship
This program offers online and in-person training for up to 40 Nigerian journalists who are selected through a competitive process. The program focuses on the United Nations' Sustainable Development Goals 10 and 13, which aim to "reduce inequality within and among countries" and "combat climate change and its impacts" by 2030.
Journalists hear from global experts on climate and migration during the workshops, which are led by award-winning science and environmental journalists. After producing stories using what they learn during a virtual workshop, 20 journalists are invited to attend a workshop in Nigeria, where they learn techniques for visualizing data and receive hands-on mentoring on story projects. At the conclusion of the workshop, participants receive small reporting grants to produce in-depth stories. The best submissions receive cash prizes. 
The United Nations Foundation sponsors this program.
Applications for this program have closed.