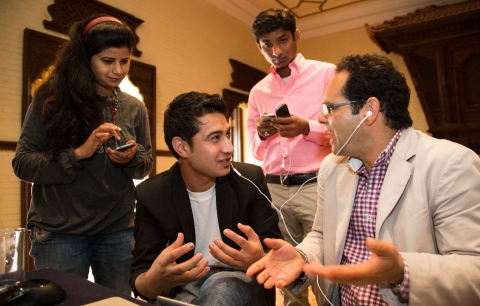 In the spring of 2016 the International Center for Journalists (ICFJ) implemented a program for South and Central Asia journalists that aimed to build bridges between South and Central Asia and U.S. media outlets. The opportunity exposed participating journalists to professional counterparts and practices in the United States and advance storytelling techniques rooted in social media, enabling journalists to produce work that engages youth in their countries. Additionally, the program allowed participating journalists to engage with their home nations' diaspora communities in the United States, specifically in the Silicon Valley region.
Participating journalists worked and trained with U.S. newsrooms and multimedia experts to create story projects, using what they learned about new digital media tools and social media practices in their story production. Resulting projects will connect readers back home with their counterparts living in the U.S.
The South and Central Asia Digital Media Co-op program selected 12 English-speaking journalists from 13 countries in the South and Central Asia regions. Journalists and media innovators from Afghanistan, Bangladesh, Bhutan, India, Kyrgyzstan, Kazakhstan, Maldives, Nepal, Pakistan, Sri Lanka, Tajikistan, Turkmenistan and Uzbekistan were invited to apply.
Applicants were chosen according to the quality and feasibility of the multimedia or digital story projects they proposed. Applications that involved projects focusing on participants' home nation diaspora communities in the United States were be given preference. The program, sponsored by the U.S. Department of State, had three phases.
Phase 1: The 12 journalists attended a three-day orientation in Silicon Valley to prepare them for their three-week mentorship placements at host organizations, where they developed their individual projects. The orientation included sessions on the U.S. media landscape and tech innovation in Silicon Valley.
Phase 2: Attachment "mentorship" phase at a U.S. newsroom or tech company, during which participants located and connected with diaspora communities in the area. Working out of the host organization and relying on the resources available to them in Silicon Valley, the journalists built out their multimedia projects highlighting those communities.
Phase 3: The journalists met in Washington, D.C. where they presented their projects for feedback from peers and ICFJ staff.
Upon returning to their home countries, journalists received three months of online mentorship. During this post-program phase, they were guided on utilizing new techniques to publish their stories as well as implementing multimedia methods in their newsrooms. Prizes were given to the participants with the most innovative and impactful projects.
Program Dates:
4/2/2016 - 4/26/2016